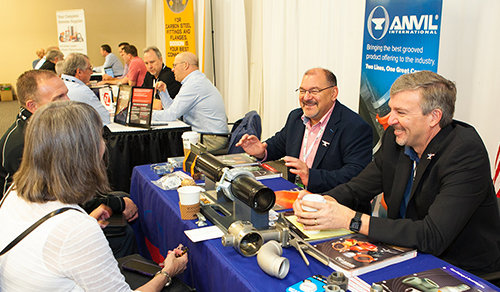 The 2018 AD Plumbing & PVF Spring Network Meeting Energizes Members
April 12, 2018
On March 13th through the 15th, 2018, the AD PHCP Divisions hosted a record breaking Spring Network Meeting, with over 245 in attendance. The attendees were comprised of US Plumbing and PVF members as well as the Canada Plumbing & Heating Division who traveled far and wide to share their experiences within the network sessions. Additionally the Board of Directors from AD's newest division, AD Decorative Brands were in attendance. All attendees were pleased to welcome Linda Hoff to her first AD meeting as the Director, Decorative Brands.
Attendees enjoyed three days of peer networking, best practice sharing, and updates on AD programs including HR Services, Procurement Services, and eCommerce Solutions, to help them strengthen their competitive edge today and into the future. Building upon the success of last year's session on organizational culture, attendees deepened their knowledge with speaker Doug Lipp, author of Disney U spoke about how to "Creating Cultures of Significance.".
Jeffrey Beall, President, AD U.S. & Canada PHCP Divisions shared, "AD attracts members based on their dedication to growth, their financial stability, and perhaps most importantly, their eagerness to collaborate. Because of this, AD Networks are filled with smart and successful entrepreneurs who are ready to share their ideas for growth. Our members leave The AD Spring Network Meeting refreshed and energized, with pages and pages of best practices that they are ready to implement in their independent distribution businesses across the US and Canada."
Awards were given at the event, honoring our members for their commitment to growth, marketing, innovation, investment in their people and giving back in their communities. The following companies received these prestigious AD awards:
AD Plumbing Member of the Year: Keidel Supply Co., Inc.
AD PVF Member of the Year: Louis P. Canuso, Inc.
AD Power Buy Award: Galloup
Best AD Field Marketing Summit: First Supply LLC
AD Giving Back Award: Cooney Brothers
AD Member Best Workplace Recognitions: American Pipe & Supply, Eastern Industrial Supplies and Hirsch Pipe & Supply
New this year, strategic supplier sponsors were acknowledged throughout the event and given informal booth session opportunities. members and suppliers engaged in discussions about new products and other ways to grow partnerships in 2018.