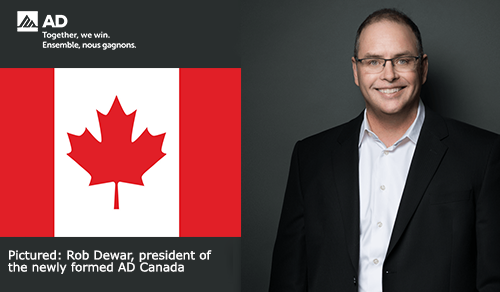 New AD Canada business unit signals further commitment in Canadian market
January 25, 2021
French version below | version française ci-dessous
Wayne, Pa. – With 28 years of commitment to Canadian independent distributors, and as a sign of its focus on further investment in the Canadian market, AD announced it has made the strategic decision to establish AD Canada as a distinct business unit, serving the more than 150 members of its three Canada-based divisions.
The move will empower a strong Canadian-based leader to oversee, unify and grow AD's Canadian business. Rob Dewar, current president of the Industrial & Safety-Canada Division, is being promoted to president of AD Canada. He is charged with leading more than 20 full-time Canadian-based associates supporting AD's Electrical-Canada, Industrial & Safety-Canada, and Canada Plumbing & Heating divisions, as well as the AD Canada Warehouse and Meeting Center that opened in summer of 2020. Dewar, who is based in Mississauga, will now report to Chairman and CEO Bill Weisberg.
"Establishing the AD Canada business unit is a very clear signal that our leadership and board of directors are committed to the continued growth of our members and supplier partners in the Canadian market," Weisberg said. "Putting Rob at the helm and having him report directly to me further underscores our unwavering commitment. Rob is a high-performing executive who produces results and he's the right leader for this next chapter."
Dewar joined AD following its merger with IDI in 2019. Since then, he and his team have enhanced supplier programs, welcomed new members and supplier partners, relocated to a new, larger warehouse facility, and delivered on and exceeded business plans.
"I'm looking forward to learning from and collaborating with our Canadian members and suppliers to maximize this new business unit's support to the AD community in Canada, and further leverage our warehouse across our divisions, all so we can help our independent members continue to successfully compete and grow," Dewar said. AD LLC Board Director Tim Horsman, president and CEO of Canada-based E.B. Horsman & Son, sees multiple benefits of one AD Canada for members.
"Our Canadian businesses continue to grow organically and through acquisition, so bringing our AD Canada team together as a strategic business unit in our new Ontario head office and distribution center is a natural next step," Horsman said. "This strategy reinforces AD's commitment to Canada and unifies our cross-divisional talent in areas like leadership, sales, marketing and operations as one team to serve our members and supplier partners across our Electrical, Plumbing & Heating and Industrial & Safety divisions."
Une nouvelle unité commerciale d'AD Canada signale un nouvel engagement sur le marché canadien.
Wayne, Pa. – Après 28 ans d'engagement auprès des distributeurs indépendants canadiens, et comme preuve de leur poursuite d'investissements sur le marché canadien, AD a annoncé avoir pris la décision stratégique d'établir AD Canada comme une unité commerciale distincte, servant ainsi plus de 150 membres de ses trois divisions canadiennes.
Cette décision permettra à un solide chef de file canadien de superviser, unifier et faire croître les affaires d'AD. Rob Dewar, le Président actuel de la Division industriel et sécurité-Canada, est promu Président d'AD Canada. Il est chargé de diriger plus de 20 associés canadiens à temps plein qui appuient les Divisions électricité-Canada, industriel et sécurité-Canada et plomberie et chauffage-Canada, ainsi que l'entrepôt et centre de rencontre d'AD Canada qui ont ouvert leurs portes durant l'été 2020. Dewar, qui est basé à Mississauga, fera maintenant des comptes-rendus au Président du conseil et PDG Bill Weisberg.
« Établir l'unité d'affaires d'AD Canada est un signe très clair que notre leadership et Conseil d'administration s'engagent à continuer la croissance de nos membres et fournisseurs dans le marché canadien », a dit Weisberg. « Le fait de placer Rob à titre de Directeur et qu'il me fasse des comptes-rendus directement, met en évidence notre engagement inébranlable. Rob est un cadre très performant qui produit les résultats et il est le bon leader pour ce prochain chapitre. »
Dewar s'est joint à AD après sa fusion avec IDI en 2019. Depuis, lui et son équipe ont amélioré les programmes des fournisseurs, accueilli les nouveaux membres et partenaires fournisseurs, déménagé dans un nouvel et plus grand entrepôt, et ont délivré et surpassé les pans d'affaires.
« J'ai hâte d'apprendre de, et collaborer avec, nos membres canadiens et fournisseurs pour maximiser le soutien de cette nouvelle unité d'affaires pour la communauté AD au Canada, et de tirer davantage parti de notre entrepôt dans nos divisions afin d'aider nos membres indépendants à continuer de rester compétitif er et croître avec succès, » a déclaré Dewar.
Tim Horsman, membre du Conseil d'administration d'AD LLC, Président et PDG d'E.B Horsman & Son, voit de multiples avantages d'AD Canada pour ses membres.
« Nos entreprises canadiennes continuent de croître organiquement et par des acquisitions, donc réunir nos équipes d'AD Canada ensemble en tant que qu'unité d'affaires stratégique dans notre nouveau siège social et notre centre de distribution est la prochaine étape naturelle, » a dit Horsman. « Cette stratégie renforce l'engagement d'AD envers le Canada et unifie nos talents inter-divisions dans les domaines comme le leadership, les ventes, le marketing et les opérations en tant qu'équipe qui sert nos membres et partenaires fournisseurs dans nos Divisions d'électricité, de plomberie et chauffage, et d'industriel et sécurité. »