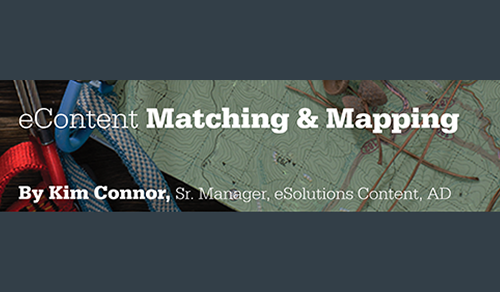 eContent Matching & Mapping
January 4, 2018
The following is practical advice on how to load product content into your ERP and/or eCommerce platforms and to keep this information current.
As many of you know, building product content for your eCommerce site is no small undertaking. Companies can spend millions of dollars to build and maintain content. The AD eContent Program was established to significantly cut down these costs by providing access to millions of enhanced SKUs at a fraction of the price.
While the hard work is done for you in regards to content development and maintenance, there is still work to be done on your end to get the data into your ERP and eCommerce platforms.
The content consumption process starts with matching your part numbers and mapping your fields to the AD content. For some, this will be an easy process while for others this may be more difficult, but with some analysis and planning, the time and effort involved with matching and mapping your content can be lessened.
Matching
The first step to successfully match your data is to identify a unique identifier within your current data set. The easiest, most reliable unique identifier is a Universal Product Code (UPC). In most cases using a UPC to match to the AD content will simplify your matching process and yield better results.
For distributors who don't use UPCs, the next logical identifier is a combination of Manufacturer Name and Part Number. It is important to use a combination of Manufacturer Name and Part Number since two Manufacturers may use the same part number.
There is usually no need to invest in new software since in most cases Excel with a simple formula such as VLOOKUP, which allows you to link one spreadsheet to another, can accomplish this task. Unilog now offers a matching service for those distributors that are having difficulty matching the data. For those interested, reach out to your AD eContent Manager.
Mapping
This process involves mapping the chosen product data fields in the AD eContent database to the fields in your ERP and/or eCommerce Platform. It is helpful to have at least one person with strong data management skills to perform this task.
One important thing to note is that each SKU in the AD content database is set up individually as an "each". While the AD content is platform agnostic, some eCommerce platforms require a "one- to-many" relationship.) In which case, you may need to adjust the data to work for your specific platform. The AD eContent team can connect you with a 3rd party company to assist in this process.
Loading The Data
Prior to loading the data to your ERP and/or eCommerce platform there are a few things to consider:
Will you be using all of the fields from the AD export?
Are there any limits to your platform(s)? Character lengths, document sizes, # of images, etc.
After you successfully load the data, it is important to determine a schedule for on-going updates. The AD Product Information Management (PIM) features an export scheduler that can run exports at your preferred cadence to be delivered to your FTP or can be manually pulled from the PIM, when needed.
On-Going Data Governance
Now that you have matched and mapped your data, the next step is to define on-going data governance rules. Think about how products enter your warehouse and apply similar rules to how data is created and maintained.
Key Takeaways
Identify someone on your staff or a consultant with solid data management expertise.
Once you develop a data process, set guidelines, document and communicate the process.
Many companies are using the AD content to help clean up their ERP data allowing for consistency with manufacturer part numbers and UPCs.