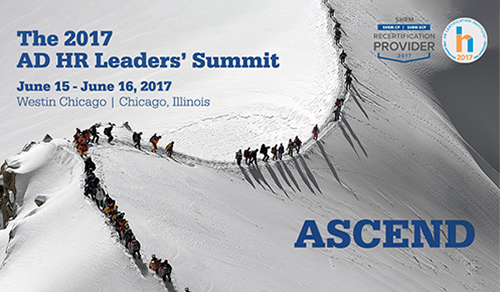 AD to Host First HR Leaders' Summit
April 11, 2017
This June, HR decision makers from over 500 AD independent distributors across seven construction and industrial supply industries and three countries will convene in Chicago for the first AD HR Leaders' Summit.
I sat down with AD's VP of HR, Neil Cohen, to talk about his experience working with AD Independents and why he believes this new conference is important to attend.
RWN: A portion of your job is to help AD independents up their HR game. How do you think the upcoming Summit will help to tackle common issues they face?
NC: Common issues faced by many of the distributors I talk to include areas like recruiting and retaining talent, leadership development, and how to build an HR strategy. I love being able to spend time with our distributors and work with them to come up with practical and strategic approaches for meeting those challenges. When crafting the agenda for the Summit, we wanted to take the same approach. Summit attendees will not only get to hear from best in class HR thought leaders on these exact topics, but they will also be able to network with other independent distributors where they can share best practices and lessons learned and meet with best-in-class HR service providers who can support their HR efforts.
RWN: A lot of our members don't have formal HR people at their company. Should they send someone to attend the Summit anyway?
NC: Totally! Meeting registration has been open for two weeks now and attendee titles range from President and CEO to CFO and Controller, along with HR titles. We created the content specifically for the AD independent distributor. Some distributors don't have a dedicated HR person on their team. The topics we will be discussing are very practical and attendees can choose to go to sessions relevant to their priorities.
RWN: Independents' executives are super busy, so why should they take the time out to attend another meeting?
NC: The difference with this HR event compared to others in the industry is really the content and the attendees. Only AD independent distributors will be in attendance and 100% of the Summit content, from the keynote speakers to the networking topics, was chosen by our members for our members. This is an event for folks who believe that their people are their biggest competitive edge and that smart investments in their team can give them a leg up on their competition. As an added bonus, there are continuing education credits available for SHRM and/or HRCI-certified HR professionals.
AD's HR Leaders' Summit will be held on June 15th-16th in Chicago, IL at the Westin Michigan Avenue. To view the agenda or RSVP login to AD's private website my.adhq.com or email meetings@adhq.com.