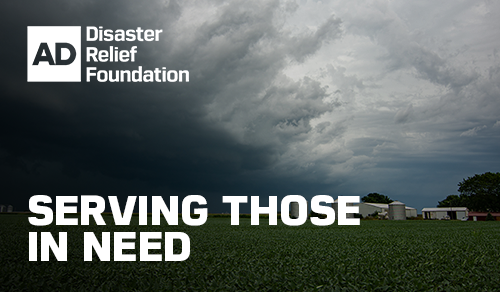 Above and beyond: AD Disaster Relief Foundation marks 4 years of service
August 31, 2021
Entering its fifth year, the AD Disaster Relief Foundation continues to help AD members and suppliers make a lasting impact in each other's lives, businesses and communities.
Forty years ago, AD was founded on a simple premise: Together, we are stronger. It's a belief shared among AD's independent distributor members and supplier partners, who regularly demonstrate that even the biggest problems can be solved by ordinary people working to make a difference in the lives of others.
To help deliver on its core value of serving others, in 2017 AD launched the AD Disaster Relief Foundation, a 501(c)(3) non-profit organization through which the AD community formally supports one another in the event of a disaster. At the time it was founded, AD leadership recognized that many member and supplier companies and their employees had been impacted by natural disasters and were eager to help each other in times of hardship.
What they didn't realize was just how large the collective impact would be.
Four Years. 66 Grants. More Than $342,000 in Funds Issued.
Helping Made Easier
For most companies, directing charitable giving is a complex and expensive process that may even put a business at risk. A solution came into sharp focus for AD's Chairman and CEO Bill Weisberg back in 2016, when a massive storm in Louisiana damaged the homes of many employees at AD member companies.
One member, The Reynolds Company, already had a family foundation in place. Through the foundation, they were able to ask the industry for help and to legally provide grants directly to employees who had suffered losses. Upon learning about the foundation, Weisberg saw an opportunity to leverage AD's scale for the good of its members and supplier partners.
"When a disaster hits somewhere in the country, we want to help our friends and colleagues there," Weisberg said. "But how many AD members have foundations? Not many. We decided to set up a foundation that our members and suppliers could use as if it were their own. Today, if a disaster impacts our community, we have a way for members to contribute funds to directly help those in need."
In that respect, the AD Disaster Relief Foundation helps deliver on AD's tagline, Together We Win. But, as Weisberg noted, "We only win with what we know." To that end, the foundation solves another problem: in order to help, donors must know who among them needs assistance. By providing an avenue for members and suppliers to communicate with each other, the foundation provides a clear path for impactful giving.
The Story of El Derecho
"It was complete chaos. Almost every person in our town needs a new roof," recalled Kate Weber, human resources specialist at AD member company Van Meter, Inc. in Cedar Rapids, Iowa. On August 10, 2020, a widespread, long-lived windstorm, known as a derecho, ripped through the city of Cedar Rapids and quickly became the costliest thunderstorm in U.S. history.
The 14-hour storm, traveling 770 miles, tore off more than 65% of the city's tree canopy, damaged homes and businesses throughout Iowa, and destroyed 850,000 acres of crops across the state. Despite the level of devastation, there was little media coverage, and few people in the U.S. heard about the derecho.
The AD Disaster Relief Foundation reached out to Van Meter. "AD was willing to step up for every single one of our employee-owners who applied for help," said Weber. Amid the chaos, AD's assistance provided relief not just for individual employees, but for the entire company.
"It really took some of the pressure off because so many were in need. Van Meter could lean on a friend to figure out how we were going to help our employees, and we didn't have to pick who received funding from the company," Weber noted. "Instead, we were able to share that a valued partner was coming to our aid in a time of need."
Although the foundation provides funds for those within the AD community, its impact often extends more broadly into communities, according to Lisa Casey, AD meetings and services coordinator - PHCP Business Unit, who oversees the Foundation's activity. "As part of the grant process, we ask every recipient if they helped anyone else in their community," Casey explained. "Every single Van Meter employee who received assistance went out and helped other people, from cleaning up a flooded church to holding a neighborhood barbecue."
Casey says that this extensive web of community help is typical of AD members and supplier partners. She noted, "It says a lot about the AD community and the people at AD companies. Even with all that happens to them, they're giving back to people in need around them."
Always Here to Help
The AD Disaster Relief Foundation regularly keeps an eye out for natural and manmade disasters across the country, to proactively reach out to member and supplier companies that may be affected. When help is needed, AD provides a point of contact and a process for channeling assistance from partners within the community.
For their part, donors can contribute funds or in-kind goods, such as construction or industrial supplies, building materials, or cleaning equipment. Notably, 100% of all donations go directly to the people who need it, not to administrative costs.
In the end, Weber remarked, "You always hope and assume that people will be there for you in times like this. But you never know what to expect. AD was adamant about helping when they heard about the derecho. They made it easy, and they followed up."
One thing is certain: As AD grows, so does its network of members and suppliers ready to step up and support the AD Disaster Relief Foundation when the community calls.