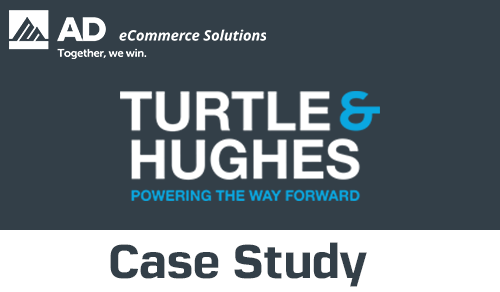 Turtle & Hughes Executives Lead Company-Wide Digital Transformation in 2 Years
January 11, 2019
"Our CEO envisioned a digital transformation that would be the next wave of Turtle & Hughes' 95 years. Digitization of the entire business was our top priority." - Ajay Kamble, CIO at Turtle & Hughes
Company Background
Turtle & Hughes is one of the nation's largest independent electrical and industrial distribution companies. With more than 900 employees, it serves the industrial, commercial, utility, and contractor markets from 17 locations across the United States. Turtle & Hughes is an AD Member in the Industrial and Electrical divisions.
The Challenge
In 2016, Jayne Millard, Chairman and Co-CEO of Turtle & Hughes, recognized a major shift in the marketplace that would heavily impact the company's customer base. Millard foresaw the imminent digitization of the industry and understood that she had to lead the company her great-grandfather founded in 1923 into the technology world of 2020. It all came down to putting the customer first by engaging them on their terms -- "wherever and whenever," quickly and efficiently, and with a seamless user experience.
For Millard, it was imperative to find a solution that would carry a 95-year-old family- and employee-owned business into the next 95 years and beyond. As a result, Turtle & Hughes undertook an all-encompassing digital transformation that would leave an imprint on every aspect of their business, starting with an updated internal CRM to engage customers on all fronts; traditional print, digital and social marketing.
As a natural extension of this digital transformation, Turtle & Hughes looked to create a functional and informative eCommerce digital channel that would accommodate this shift in procurement culture. The company's existing website was well-received as a high-quality marketing brochure with a weekly blog. However, wanting to maximize both eCommerce and SEO strategies, the company elected to build a new site from scratch.
The goal was to launch a Digital Branch in April of 2018. The challenge was to meet an aggressive timeline while onboarding a sales-oriented and service-focused organization that wanted to replicate the same high expectations their customers had been used to, but in an online world.
The Solution
In December 2017, with just four months to launch, Turtle & Hughes onboarded four strategic partners who were experts in their field: AD eCommerce Solutions, Unilog,  MindTree, and TopSpot. Together, they built a high-quality, best-in-class web presence.
1) Turtle & Hughes' internal team drove the "change management" cultural shift and created all of the marketing content for the new site.
2) AD eCommerce Solutions provided a library of enhanced SKUs.
3) Unilog provided the CMS, PIM, and Search platforms.
4) TopSpot provided all of the creative, designs, and SEO.
5) MindTree managed the project and made sure all teams worked in sync.
To solve the inconsistencies in their existing product content, Turtle & Hughes ran their large catalog offering through Unilog and synced it with AD's library before uploading it onto their platform. This allowed for any missing information, product specs, images, etc., to be filled into their existing content, giving them enhanced product SKUs across the entire Digital Branch.
Turtle & Hughes also adopted a new web analytics platform from TopSpot and Google Analytics to collect and disseminate metrics as a way to share knowledge and gain acceptance. The analytics platform provides clear visibility from leads to customer engagement and, more importantly, the customer's behavior that will help improve and build the next generation of digital presence.
Throughout the development process, the Turtle & Hughes executive team focused extensively on an implementation strategy that would lead to internal acceptance of the Digital Branch. It was essential to have this leadership buy-in both in time and investment to support this cultural shift. With a top-down approach, the executive team emphasized that all partners were focused on achieving the same goal and that the digital transformation was an integral part of their go-forward strategy -- and a necessity for driving the highest quality, full-bodied service for every customer in a growing dependent digital world of business. The internal teams were the first to access the Digital Branch and provided feedback on functionality, which was instrumental in a successful launch.
In May 2018, within the planned schedule and budgets, Turtle & Hughes launched their Digital Branch.
Results
In the two weeks after launching the Digital Branch, Turtle & Hughes had over 80 customers register without being prompted or onboarded.
Today, the Turtle & Hughes Digital Branch contains around 400,000 SKUs, 80% of which are AD enhanced SKUs.
Their goal is to have over 1 million fully enriched SKUs by the end of 2019. By quickly presenting the results of their Digital Branch, Turtle & Hughes was able to celebrate early victories. Their internal sales teams are much more engaged and there is a shift in culture. Customers welcome the new initiative and are driving engagement with data insights, which will only help the sales team to improve their service levels both online and offline. Turtle & Hughes expects to gain at least 50% efficiency through this internal and external engagement.
As a next step, Turtle & Hughes plans to migrate their sales team to the new portal for their day-to-day activities and live in their customers' shoes, which not only will improve the Digital Branch's quality and performance, but also improve ordering efficiencies through enhanced search results and an automated ordering process. They have also set goals for adoption and revenue over the next three years and are currently on track to meet them.
AD eCommerce Solutions leverages AD's scale and community to enable Members to achieve their eCommerce objectives and win in an evolving digital world. To learn more about AD eCommerce Solutions, contact Caroline Ernst at cernst@adhq.com or (610) 977-3162.