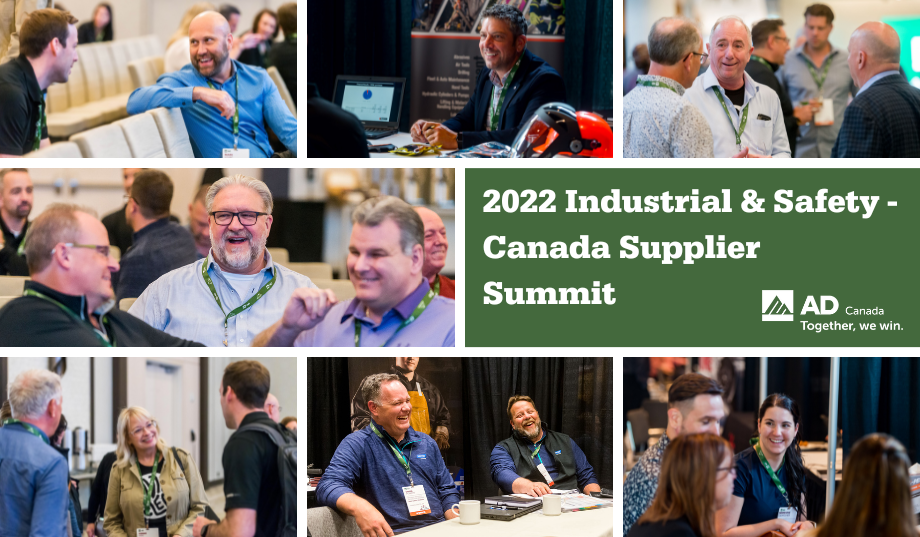 The 2022 AD Industrial & Safety – Canada Supplier Summit cultivates growth, collaboration during return to in-person event
June 22, 2022
Vancouver, BC - AD members and suppliers eagerly reunited during the 2022 AD Industrial & Safety – Canada Supplier Summit hosted at the JW Marriott Parq Vancouver / The Douglas Hotel from May 30 – June 2, 2022. With nearly 400 participants in attendance from coast to coast, as well as some participants from the U.S., the monumental event was instrumental in the reconnection and reintegration of the division—fostering opportunities and conversations inspired by in-person collaboration. 
Rob Dewar, president of AD Canada, shared his thoughts on the hallmark event as well as the continued growth of the division. 
"The 2022 AD Industrial & Safety – Canada Supplier Summit was something special, and unlike any other gathering during my years at AD—because after being forced apart for so long, our division's members and suppliers came together with true passion and persistence, fueling growth and new relationships while instilling a renewed sense of vision and enthusiasm," relayed Dewar. "The energy was electric—and I am personally very excited to witness what is to come as a result of so many meaningful discussions and opportunities to breed new business. I would like to sincerely thank the entire AD Canada team for their hard work on making this event truly world-class and one for the books." 
During the event's business updates, Dewar also shared that in 2021, the division returned an impressive 101% of rebates to members while growing remittances by 20% and increased rebate redistribution by 24.4%. As AD Industrial & Safety – Canada gears up for the latter half of 2022 and into 2023, the division anticipates additional strides and momentum. 
The event featured a series of strategic booth appointments as a key element of the Supplier Summit, bringing ample value to both members and suppliers. Working one-on-one with key decision makers, divisional partners had the opportunity to discuss important initiatives and plans to maximize growth for 2022 and beyond via a meeting format that maximized the opportunity for connection.
The meeting also saw the re-launch of a vital initiative, AD Canada's Gender Equity Network (previously known as the Women in Industry Network). The initiative seeks to promote healthy workplaces where everyone feels included and empowered, with overall awareness, and ultimately, change as it relates to gender inequities being a primary focus of the group. 
The division's chairperson, Guy Desroches, spoke on how the event's components—both formal and informal, contributed to the resurgence and continued expansion of the division. 
"This opportunity that we were afforded to be together in person once again was invaluable—our robust union as a group speaks for itself, and we proved that we are truly stronger together," said Desroches. "While we were able to be adaptable and to steadily grow as an alliance via connecting virtually for the last two years, the efficiencies and insights that come from being together physically in a room are simply unmatched. I am elated to have the benefits of in-person connection and best practice sharing back within scope." 
The 2023 AD Industrial & Safety – Canada Supplier Summit is slated for June 19 – 22, 2023 at the Westin Harbour Castle in Toronto, ON. The division looks forward to another stellar event full of connecting and best practice sharing next year.
---
Le Congrès des fournisseurs de La Division Industrie et sécurité d'AD Canada mise sur la croissance et la collaboration à l'occasion de sa reprise en tant qu'événement en personne.
Vancouver, C.-B. — Les membres et les fournisseurs d'AD se sont réunis avec grand succès au cours du Congrès des fournisseurs de La Division Industrie et sécurité d'AD Canada, qui a eu lieu au JW Marriott Parq Vancouver/l'hôtel Douglas entre le 30 mai et le 2 juin dernier. En présence de près de 400 participants venus d'un bout à l'autre du pays, ainsi que quelques participants des États-Unis, ce grand événement a été une occasion concrète pour rétablir les liens et pour réintégrer les membres de la division, tout en favorisant les occasions et les conversations suscitées par les échanges et le réseautage en personne.
Rob Dewar, le Président d'AD Canada, a partagé ses réflexions sur cet événement mémorable ainsi que sur la croissance continue de la division.
« Le Congrès des fournisseurs La Division Industrie et sécurité d'AD Canada a été un événement spécial, qui ne ressemble à aucun autre rassemblement depuis que je suis chez AD. Après avoir été séparés pendant si longtemps, les membres et fournisseurs de notre division se sont réunis avec une véritable passion et persévérance, ce qui a énergisé la croissance et les nouvelles relations, tout en suscitant un sens renouvelé de la vision et de l'enthousiasme qui nous sont propres », a déclaré M. Dewar. « Il y avait une énergie électrique — et je suis personnellement très excité de voir ce qui est à venir à la suite de ces nombreuses discussions fructueuses et de diverses occasions de créer de nouveaux débouchés dans le marché. J'aimerais remercier sincèrement toute l'équipe d'AD Canada pour leur travail assidu qui a permis de faire de cet événement un succès de classe mondiale et une réunion à ne pas manquer ».
À l'occasion des mises à jour sur les activités de l'événement, M. Dewar a également fait savoir qu'en 2021, la division a retourné un pourcentage vraiment impressionnant de 101 % des remises aux membres, tout en accroissant les remises de 20 % et en rehaussant la redistribution des remises de 24,4 %. Tandis que la Division Industrie et sécurité d'AD Canada se dirige vers la seconde moitié de 2022 et vers 2023, celle-ci prévoit de nouvelles avancées sans oublier un dynamisme renouvelé.
Parmi les éléments clés du Congrès des fournisseurs, citons une série de rendez-vous stratégiques sur les kiosques, qui ont largement profité aux membres aussi bien qu'aux fournisseurs. En tête-à-tête avec des décideurs clés, les partenaires des divisions ont eu l'occasion de se pencher sur des initiatives et de futurs plans et collaborations importants qui permettront de maximiser la croissance en 2022 et par la suite, et ce, dans le cadre d'un format de réunion qui favorise le réseautage et les contacts.
Cette édition du Congrès a également vu le relancement d'une initiative essentielle, le Réseau pour l'équité entre les sexes d'AD Canada (Gender Equity Network) anciennement dénommé le Réseau des femmes dans l'industrie (Women in Industry Network). Son objectif est de promouvoir des milieux de travail sains où chacun se sent inclus et habilité, qui priorise sensibilisation globale et, en fin de compte, le changement dans le domaine de l'inégalité entre les sexes comme objectif principal du groupe.
Le Président de la division, Guy Desroches, a souligné comment les composantes de l'événement, à la fois formelles et informelles, ont joué un rôle déterminant dans le renouveau et l'expansion constante de la division.
« La possibilité de nous retrouver une fois de plus en personne a été précieuse — notre solide union en tant que groupe témoigne d'elle-même, la preuve étant faite que nous sommes vraiment plus forts ensemble », a déclaré M. Desroches. « Bien que nous ayons été en mesure de nous adapter et de croître constamment en tant qu'alliance en communiquant virtuellement au cours des deux dernières années, il n'en demeure pas moins que l'efficacité et la compréhension qui se dégagent d'une réunion en personne dans une salle de conférence comme celle-ci, est simplement incomparable. Je suis ravi de retrouver les avantages des réunions en personne et du partage des meilleures pratiques. »
Le Congrès des fournisseurs de La Division Industrie et sécurité d'AD Canada de 2023 est prévu du 19 au 22 juin 2023 au Westin Harbour Castle à Toronto, ON. Les membres de la division se réjouissent à l'idée d'organiser l'an prochain un autre événement exceptionnel, riche en échange de connaissances et de pratiques exemplaires !