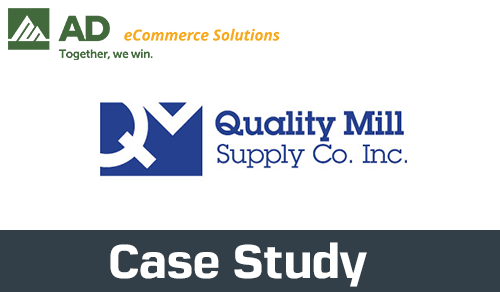 Quality Mill Supply Company Inc. Sees 20x Increase in Site Traffic Due to Enhanced Product SKUs
January 17, 2019
"The combination of AD's Search Engine Optimized eContent, with strong images and enriched descriptions, and Unilog's CIMM2 Platform was very powerful for us and has led to a huge increase in traffic on our website." - Gary Khodanian, eCommerce & Marketing Manager at Quality Mill Supply Company, Inc.
Company Background
Quality Mill Supply Company, Inc. is an industrial distributor that has provided manufacturing solutions and products for over 70 years. They specialize in custom solutions for inventory management, process improvement, integrated supply, gauging & metrology, safety and training. Since 1944, nearly 2,000 manufacturers and customers have come to rely on Quality Mill for growth, innovation and success. Quality Mill has locations across Indiana in Columbus, Bloomington, Ferdinand, Fort Wayne, Franklin and Muncie. Quality Mill is an AD member in the Industrial division.
The Challenge
Over the last 5 years, as Quality Mill Supply Company, Inc. continued to grow, they experienced an increase in customer-demand that put a strain on the resources of their internal teams. They began to hear from their customers that they wanted to be able to browse, research, and make purchasing decisions online. While Quality Mill had an existing website, it was largely informational and included few product specs. For customers to gather more information, they would need to fill out an online form and wait for a response from the internal team. As a result, their customer-base had an expectation of their online experience that wasn't being met by Quality Mill's website.
Quality Mill quickly realized that they needed to develop a more comprehensive Digital Branch with enhanced product information and the ability to make purchases online. In the Fall of 2015, Quality Mill partnered with AD eCommerce Solutions trusted partner Unilog, and their CIMM2 Platform, to build their Digital Branch. They were then faced with the challenge of populating their new Digital Branch with product content that would enable their customers to browse, shop, and gather all the information required. While their existing product catalog of approximately 130,000 SKUs would eventually be ported over to the Digital Branch, their existing SKUs included only basic specs, part numbers, minimal imagery, and had a general lack of consistency. 
The Solution
Through their partnership with AD eCommerce Solutions, Quality Mill worked with AD's eContent Services to incorporate enhanced product SKUs into their catalog that would serve their customers' needs. AD eContent Services provided over 300,000 enriched product SKUs including high-resolution images, comprehensive product specs, descriptions, and part numbers to Quality Mill's new site, which currently make up nearly 70% of Quality Mill's Digital Branch.
In April 2017, Quality Mill launched their Digital Branch.
Results
In the time since the launch of their Digital Branch, 68% of the unique SKUs sold on Quality Mill's Digital Branch have consisted of AD enhanced SKUs, which account for 58% of the dollar value of their online sales. However, the most notable result is the surge in site traffic they have received.
On their previous website, Quality Mill would average 500 sessions per month in site traffic. Immediately after launching their Digital Branch, that number jumped to 5,000 sessions per month. Currently, their traffic is 20x that of their old website, locking in at an average of 10,000 sessions per month.
67% of Quality Mill's traffic to date is from organic search, which can be attributed to the Search Engine Optimization quality of their website and AD enhanced SKUs. Both Unilog's CIMM2 Platform and AD enhanced SKUs allowed Quality Mill's Digital Branch to be indexed on Google, leading to a sharp increase in site traffic. In addition to the increase in organic traffic, 20% of Quality Mill's current online sales are new business that came through the Digital Branch. Of that 20% of new business, 98% of the sales have been on AD enhanced SKUs.
For the remainder of the year, Quality Mill is on route to see an increase in sales of approximately 7x their 2017 sales, which would not have been achievable without the enhanced product content from AD eCommerce Solutions.
AD eCommerce Solutions leverages AD's scale and community to enable Members to achieve their eCommerce objectives and win in an evolving digital world. To learn more about AD eCommerce Solutions, contact Caroline Ernst at cernst@adhq.com or (610) 977-3162.