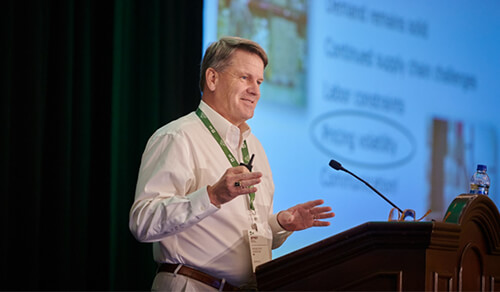 In a year of exceptional growth, 2021 AD PHCP North American Meeting sets new records
November 2, 2021
Grapevine, Texas – Despite post-pandemic challenges, more than 1,000 AD members, suppliers and associates gathered for the 2021 AD PHCP North American Meeting Oct. 18–21, the most attendees ever at this event. The meeting also drew a record number of first-time attendees, with over 150 members and suppliers experiencing their first fall meeting.
Jeffrey Beall, president of the AD PHCP Business Unit, pointed to the appeal of coming together in person.
"It's been a stressful couple of years for both our distributors and manufacturers," Beall said. "Being face to face creates transparent discussions about what needs to be fixed and improved. Sharing dinner and conversation in a more personal way really drives business and results."
A difficult two years notwithstanding, all three PHCP divisions are on track to see an increase of 30% or more in sales and member purchases from suppliers—earnings growth that outpaces the industry. During the meeting, AD leadership emphasized the role of AD's incentive and conversion programs in driving momentum for both members and suppliers.
AD Rewards is one of those programs. It has an eight-year history in the Electrical-U.S. Division of driving sales at double the market rate. Launched in the Plumbing and HVAC Divisions this April, the program incentivizes members' sales teams to learn about and sell products from participating AD suppliers. According to Debbie Hite, program manager, AD Rewards drew significant interest and new sign-ups during the event.
The meeting highlighted another program, AD eCommerce Solutions, that proved pivotal for members during the pandemic. Launched in 2016, AD eCommerce helps companies build eCommerce platforms with enhanced product content and curated digital tools. By leveraging this innovative program, many PHCP members not only continued to do business throughout the pandemic, but even saw sales growth.
Formal member networks are a hallmark of the AD experience, helping to build relationships among the best of the best in the industry. In addition to the formal network sessions that are central to AD meetings, there were two special welcome receptions.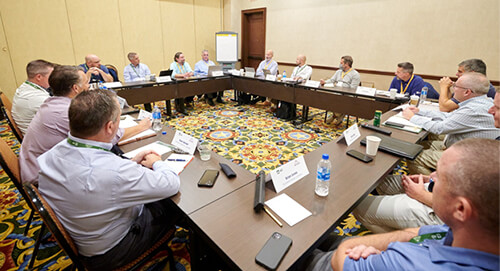 The women in leadership reception brought together women at all levels in the industry to form valuable connections and share learnings. Emerging leaders, who represent the next generation of industry leaders, also attended a reception to informally network.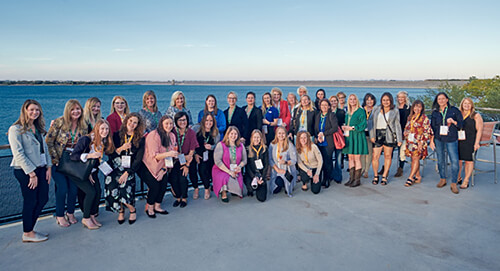 Several meeting sessions provided crucial industry insights for members and suppliers. Divisional supplier discussions featured panels of key suppliers talking about trends, outlooks and opportunities, as well as supply chain issues. These discussions spotlighted the strong partnership between AD members and suppliers.
"Given the extraordinary support we've received during these tumultuous times from our suppliers, combined with the respectful yet direct problem-solving by AD members, we're able to create better working relationships," Beall said.
A sales and purchasing session combined market intelligence with small-group roundtable discussions. Keith Prather of Armada Corporate Intelligence presented real-time data and actionable insights on market conditions. Members then broke into groups to share ideas and perspectives on navigating the trends.
Rounding out the meeting's informational focus, Tom Noon of Industry Insights presented an exclusive industry benchmarking report for the AD Plumbing and PVF divisions. The report compared the financial data of AD members with industry results, providing context for members to evaluate their individual performance and look for areas to address.
Growth goes beyond earnings
One factor in the AD PHCP Business Unit's record growth is the recent addition of new members and suppliers, many of whom attended the meeting. Justin Dunscomb, president of the AD Plumbing and PVF divisions, noted that the benefits of a growing membership extend beyond earnings.
"Having new members not only brings more volume, but also new ideas, new network connections and new ways to keep getting better," Dunscomb explained. "It continues to energize the divisions."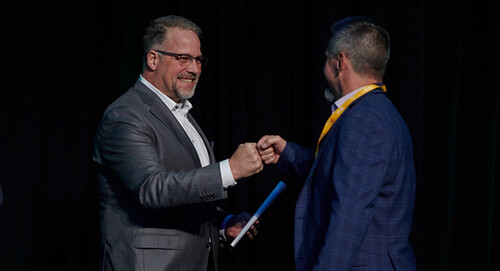 From a new member's perspective, AD offers a unique set of programs and opportunities among buying groups. Randy Lee, vice president of the AD HVAC Division, spoke with a number of new attendees who said the AD meeting was unique.
"They told me it's a first-class experience, thanks to the professionalism, networking and awards ceremony," Lee said. "They haven't experienced an event like this before. It's really humbling to hear that the meeting is so valuable for attendees."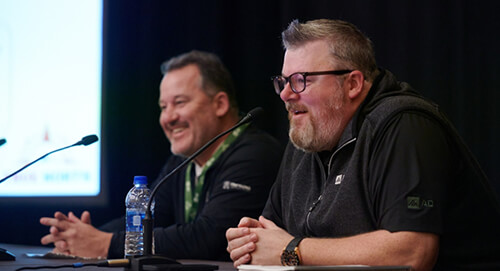 Chris Fasano, president of Torrco, a member company since 2020, elaborated on his experience.
"It's great to get ideas and perspectives from manufacturers and fellow distributors who are facing the same things," Torrco said. "It makes you realize we all share common challenges and opportunities. It's also motivating to see the many different programs available to AD members—you're not always fully aware until an event like this brings them into real focus."
Fasano added, "We came from a buying group that didn't have all this."
Part of PHCP's membership growth came from its merger in January with Delta Distributors, forming the only PVF buying group in the industry. As with other mergers, joining forces has enabled both groups' members to leverage greater networking, best-practice sharing and earnings opportunities.
Dr. Donald McNeeley, chairman and CEO of Chicago Tube & Iron, AD LLC Board director and a founding Delta Group member, commented on the synergy and timeliness of joining forces with AD.
"We have brought together some of the best and smartest independents, with AD providing improved rebates, technology, networks, initiative funding and, perhaps greatest of all, access," McNeeley said. "Our addition to AD provided the platform for that significant leap."
"As this relationship grows, the longevity will bring exponential strategic value to both. In speaking with AD members both new and seasoned, one learns that the AD relationship unfolds consistent with each and every representation made at the time of recruitment."
A clear path forward
Speaking to members, Dunscomb noted that this year's True North theme was a timely concept in a unique year.
"I've never seen anything like this in 25 years of being in this industry," Dunscomb remarked. "We're all craving stability right now. True north provides that stability by having core values and the conviction to live those values. As a community, by aligning on what's important to all of us, true north makes sure we're all taking the right actions together."
In his keynote address, AD Chairman and CEO Bill Weisberg applauded the ongoing collaboration that helped members and suppliers successfully navigate the pandemic. Reflecting on lessons learned, Weisberg said the challenges revealed what kind of partners members and suppliers had in each other, and how well the AD community's values stood up in a time of adversity.
"When we look back at 2020, let's not focus solely on the numbers," Weisberg said. "Let's remember the lessons we learned, be brave enough to put them into practice and teach them to others when the opportunity arises."