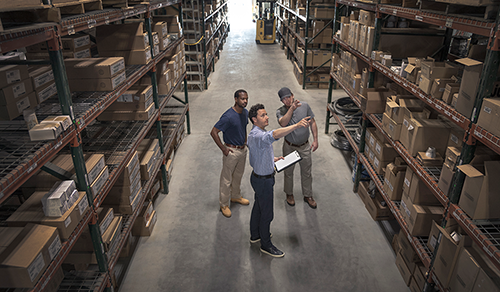 How to Leverage Challenges in Wholesale Distribution
July 2, 2018
Competitive forces are putting pressure on suppliers and wholesale distributors to seek more ways to improve their businesses. While disruptions have created an "adapt or lose" landscape, opportunities exist for decision makers who are proactive in recognizing existing inefficiencies and using the right technologies to innovate. The following major disruptions can provide businesses with unique opportunities for success and growth: 
Changing buyer profiles
Retaining customer loyalty is critical for business growth and success. Given the changing demographics and preferences of buyers, a change is required in the role of the inside salesperson to ensure that they focus on elevating customer satisfaction. Key to this task is understanding and responding to the preferences of different demographic buyers. Inside sales representatives must have the ability to manage the customer relationships to the highest level of satisfaction and deliver exceptional customer service on each transaction. By automating limited value tasks such as manually keying in sales orders that your inside sales rep spends considerable time on, they will be able to focus their time on improving customer experience and loyalty. This can also ensure that they become true product experts to deliver what Amazon Business can not. 
Lack of data into customer transaction behavior
Data that resides in unstructured formats such as email, faxes and walk-in order transactions are typically referred to as unstructured data. However, they are often overlooked because businesses usually rely on easily accessible data from common sales channels such as e-commerce and punch-out. Data from unstructured sources like emailed orders shouldn't be overlooked as it provides valuable insight into customer transactions. Coupled with data from other transaction channels, it provides a comprehensive and true view of customer transaction activity. To simplify the process of extraction, consider programmatic analysis that can turn 'unstructured data' into digital data for easy analysis. 
Inaccurate perception of cost to serve
Distributors often rely on margins and total sales figures as metrics for understanding revenue success. However, an important variable that can potentially impact your bottom line is the sales process. Your EDI or web portals might be doing a great job at ensuring a seamless customer transaction experience, but exceptions at the platform level can happen. When exceptions occur, it means substantial time lost and operational and financial strain. Therefore, an accurate snapshot of the amount of time CSRs are dedicating to each customer is required, as this reveals where resources are being allocated and how much it is costing you to serve each of your customers. With those details, you can then make informed decisions on solutions to implement that can help optimize these transactions and ultimately increase margins. 
Digital transformation at what cost?
Decision makers often pursue digital transformations for the benefit of cost-reduction and productivity. However, before that journey begins, pause to think about whether you fully understand the implications to the customer experience when certain processes are digitized. One thing that carries enormous risk is impacting customer satisfaction. Make sure that this goal is in your mind when starting digital transformation initiatives. Think about automating document processing as a way to not only reap the most benefits from digitization, but also protect customer loyalty. Eliminating manual data entry increases efficiency, freeing up time for sales reps to maintain relationships with customers. Though these major challenges can't be ignored, combining technology with strong business practices such as high level customer service can help you navigate disruptive forces to achieve success. 
About Conexiom
AD Service Provider Conexiom® allows manufacturers and distributors to eliminate manual entry associated with the processing of business documents through its 100% accurate automation solutions. Developed by ecmarket, Conexiom is a cloud-based solution that doesn't require customers or their trading partners to change the way they do business. Customer service and inside sales teams rely on Conexiom to effortlessly capture and convert POs, RFQs, pricing agreements, and other sales documents and transform them into an electronic format that can be delivered into their organization's ERP system with 100% accuracy. As the fastest and most accurate automation solution, Conexiom is uniquely positioned to prevent costly keying errors, improve productivity, reduce costs, and accelerate order-to-cash cycle times. For more information visit www.conexiom.com.