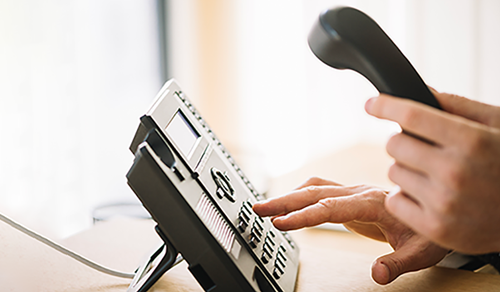 Growing Your Business with Customized On-Hold Messaging
April 5, 2018
Forming first impressions is an important part of building strong relationships with people. Many times, the first contact between a customer and your business is on the phone. It is estimated that 70% of business callers experience some type of hold time and that time spent on hold can be the first impression of your company. This can influence whether your caller chooses to do business with you.
Statistics show that approximately 34% of callers who hang up will never call you back. In addition, callers wait an estimated 70% longer on the line when they are listening to interesting information about the company they are calling. These statistics suggest that providing a customized message that is tailored to your company can be more effective than playing music or leaving the customer in silence while they're on hold.
What to Record on your On-Hold Message
The information to include on your on-hold message varies depending what services you provide. A good starting point is to record the information you think a customer would need to know about your business, such as:
Hours of Operation   
Location 
Services Provided   
Products in Stock 
Current promotions and offers
Since your information will be on a recorded loop, it is good practice to include music in between loops to break up the information for the consumer.
How Often Should the Message Be Updated?
The decision to update your on-hold message depends largely on the content you are sharing. If you are sharing content that includes short-term promotions, this information will need frequent updating so consumers are always aware of the status of any offers. However, if you're only sharing general information about your standard products, your operating hours and location, then the decision to update the message can be more reliant on metrics.
For example, if you have the same people calling multiple times a week and being put on hold for long periods of time, it might be useful to update your messaging more frequently so they are getting value out of the time they are spending on hold. The more specific and targeted your voice messages are, the more impactful and successful they'll be as a marketing tool.
How to Get Started
AD Service Provider, On Hold Marketing, can put together a clear and concise customized phone greeting that conveys the professionalism of your company and lets the caller know how important their call is to you. Scriptwriters will educate and promote your business to on-hold callers through a custom-tailored message – letting everyone know what specifically makes your company different from others. This is your chance to share your background, insight and information about your business, promotions, and products and services to your captive audience. Recordings are available in English, French, Spanish, Mandarin and Cantonese.
As a family owned and operated company for over 30 years, our standards are as high as yours and you'll always be served quickly and efficiently by friendly, knowledgeable in-house staff. Our goal is to help you market and advertise your ideas to your targeted audience at an affordable price (less than $2 per day).
Visit the On Hold Marketing website or call 1-888-4-ON-HOLD to learn more.