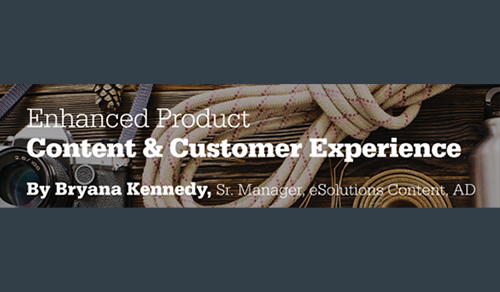 Enhanced Product Content & Customer Experience
January 29, 2018
In our journey towards greater customer centricity, we need to continue to put our customers first. Our customers spend more time evaluating and researching their product needs online to make educated buying decisions than one would think. How can we better influence your customer's buying decisions? The answer is content, content and more content. Enhanced product content enables customers to make informed buying decisions, aids in organic search, and provides consistent customer experiences, resulting in increased purchases and conversion rates for your website.
What is Enhanced Product Content?
Enhanced product content is creating a rich online shopping experience for your customers. Enhanced content gets found. In our digital environment, the first 150 words of your product description will populate up in search results across the web making rich content more imperative. Enhanced content goes above the standard or basic product overview including product short descriptions, multiple product images with various views, warranty, instructional manuals, videos; comparison charts features and benefits to deliver the most optimal and unique brand experience for your customers.
Keep in mind, it is crucial to have accuracy in your product content. Customers should know exactly what they are purchasing and feel confident in their buying decisions based on the product content provided. Any surprises on what they are receiving will negatively impact your brand perception, product returns, and loyalty for repeat purchases. While enhanced content can look different from distributor to distributor, the core components of the product details should stay relatively consistent. Each page has a product title, short description, features, and supporting documents encompassing exactly what the customer will receive when their order is placed.
Product and Content Must-Haves to Drive Conversion:
1. Brand and Logos. Many customers relate with buying confidence through brand recognition with a logo representation on a product page. Ensure that your brand, logo and awards are clearly represented on your site.
2. Product Title. Incorporate your must-haves for quick-product recognition brand, product and part number.
3. Short Marketing Description. Be creative with your marketing description incorporating key features and components differentiating the same product from your competitors.
4. Price. It is imperative to make a buying decision and decrease site abandonment rates.
5. Inventory. In order for a purchase to take place, the product needs to be available with stock showing its avail¬ability and shipping time.
6. Product Specs and Features. Defining clear, product specific attributes is crucial for customers to find products on your site while being well informed in making buying decisions.
7. Images. High resolution images showing the intricacies of your items along with lifestyle or in-use shots are comparative to a customer walking into a store to pick up and touch an item. This experience needs to be recreated online.
8. Videos. Highlighting products through video will be helpful for understanding the instructional and end user details of the usage of your product. This will help your customer relate to their buying needs.
9. Documentation. Including a digital catalog will help clarify additional needs not specified in the product detail page, including warranty information, bypassing and saving the company any customer service costs.
10. Product Comparison Charts. Good, better and best product approach supports comparisons across similar products.
Understanding and Measuring Your Customer's Experience
While every customer is not the same, each component of the enhanced product page should highlight the needs or behaviors of every customer. Many customers focus on speed of ordering and search strictly for part number to quickly place their order. Other customers may need a thorough review on all product details, including evaluation of all images and documents before placing an order. It is critical to engage your customers, whether new or existing, with a compelling experience in order to drive conversion rates.
Many organizations are challenged to measure the impact of product content on conversion rates. As a result, prioritizing improvements are still primarily opinion-based decisions without concrete or data driven results. Compare the customers' experience online with the same interaction offline with a sales or customer service representative for consistency purposes. We need to ensure the brand experience is clear by understanding what your customers value offline and make sure your sales and customer service teams coincide online.
Customer segmentation can aid in understanding where your customers are with your organization and create a unique or personalized experience. For example, understanding if your customer is a new or existing customer can help to support a customer's buying decision with providing relevant content to their purchasing needs. A new customer may want to learn more about your brand, pricing and shipping offers while an existing customer wants to see new products or log in and re-order from past purchases.
As your organization strives to drive conversion rates, the need to evaluate product content is increasing. Customer experience and content are interrelated to being successful. Many organizations need to start measuring the impact of content, review internally and iterate to make improvements. Make your product page content an ongoing review. Use enhanced content to turn your product page content into a strategic asset that will help drive online traffic and conversion.