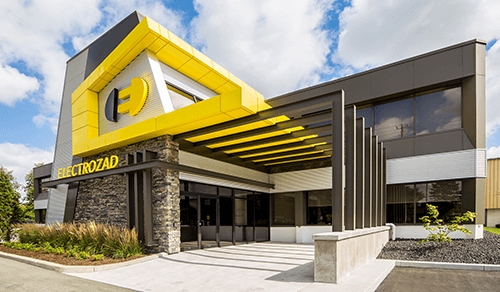 Electrozad named one of Canada's Best Managed Companies, celebrates 65th anniversary
March 10, 2020
Electrozad has been recognized for overall business performance and sustained growth with the prestigious Canada's Best Managed Companies designation. Now in its 27th year, Canada's Best Managed Companies is one of the country's leading business awards programs recognizing Canadian-owned and managed companies for innovative, world-class business practices.
This award marks the third consecutive year that the company has earned the designation, having first been acknowledged in 2018. Electrozad was selected for their commitment to service excellence, business diversification, modern marketing strategies, and their focus on corporate culture and employee development.
"This year's Best Managed winners are a testament to the success found when businesses are deliberate about seizing the opportunity to do better; they invest in game-changing technology, commit to their corporate purpose and social responsibility, and solidify their place on the world stage," said Peter Brown, Partner, Deloitte Private and Co-Leader, Canada's Best Managed Companies program.
The announcement is made as Electrozad marks their 65th year of business. Established in 1955, Electrozad was the first independent electrical distributor in Windsor, Ontario, and the first distributor of Allen-Bradley automation products in Eastern Canada. The company has thrived on a culture of innovation, and continues to support their customer's electrical and automation projects with industry leading products, services, and solutions.
"We're honoured to have been selected for this award which reinforces the emphasis we have placed on long-term business strategies and strengthening our competitive advantage. We're supported by an accomplished team that has been instrumental in our success, and we're fortunate to have strong vendor and customer partnerships that drive our business forward," said William Smith, President of Electrozad.
The Best Managed program is sponsored by Deloitte Private, CIBC, Canadian Business, Smith School of Business, and TMX Group.
About Canada's Best Managed Companies
Canada's Best Managed Companies continues to be the mark of excellence for Canadian-owned and managed companies with revenues over $15 million. Every year since the launch of the program in 1993, hundreds of entrepreneurial companies have competed for this designation in a rigorous and independent process that evaluates their management skills and practices. Program sponsors are Deloitte, CIBC, Canadian Business, Smith School of Business, TMX Group and MacKay CEO Forums. For further information, visit www.bestmanagedcompanies.ca.
About Electrozad
Electrozad was incorporated in 1955 and has grown to be the largest independently owned Electrical Distributor in Southwestern Ontario with locations in Chatham, London, Sarnia and Windsor. These facilities offer services and solutions to the Automotive, Contractor, Food & Beverage, Institutional, Machine Tool, OEM, Petrochemical markets and industries.