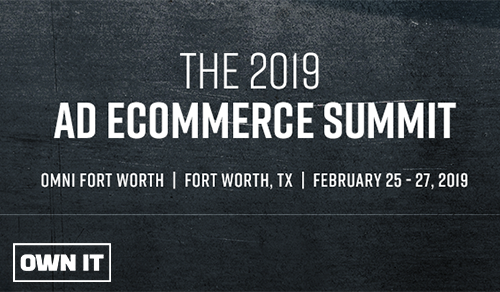 AD to Host 3rd Annual eCommerce Summit
January 2, 2019
From February 25 – 27, 2019 AD will host eCommerce decision makers and rising stars from independent distributors across North America at the 3rd annual eCommerce Summit in Fort Worth, TX. With featured speakers such as Jay McBain, Principal Analyst at Forrester Research, Marta Dalton, Global eCommerce Director at Unilever, and Mark Brohan, Director B2B eCommerce Research at Vertical Web Media LLC, this Summit will provide access to numerous industry experts.
For the first time, The 2019 AD eCommerce Summit is excited to introduce strategic one-on-one booth sessions where AD members can meet with AD Staff and Service Providers to discuss their eCommerce journey. Attendees also participate in networking sessions where they teach and share stories of their eCommerce journey and this involvement accelerates learning.
Additionally, attendees will be able to tailor their agenda to suit their business' needs and choose between workshops on relevant eCommerce topics such as advanced Google Analytics, building a social media strategy, email marketing strategies, the shift to mobile, product content management, search engine optimization, and much more...
When asked why AD members should attend the Summit, Caroline Ernst, AD Vice President of eCommerce Solutions shared, "this Summit offers an opportunity for AD Members to learn how to re-invent their business for the digital economy, expand their network and connect with eCommerce professionals at independent distributors across AD's divisions. The 'speed dating' booth sessions allow Members to discuss topics from product data integration to user experience with eCommerce experts and Service Providers."
Jack Templin, AD Chief Programs Officer and President of Industrial Divisions added, "Whether you are just getting started or have gone live with your Digital Branch, The 2019 AD eCommerce Summit is not to be missed. The agenda was chosen by Members for Members and its customizable nature, which allows you choose the presentations and workshops you want to attend, is designed to fit the needs of your business and guarantees you will bring best-in-class eCommerce knowledge back to your company."
Registration is now open – check out our registration page on AD's private website to view all information pertaining to the summit, including the full agenda, speaker bios, and hotel information. If you have any questions, please email ksmith@adhq.com.