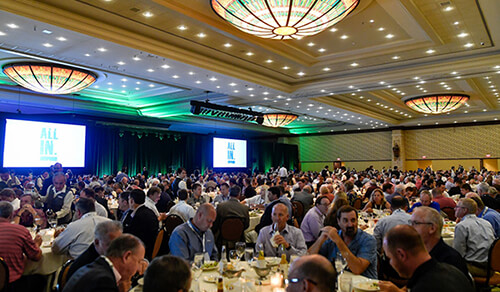 AD's PHCP says record number of participants were "All In" for 2019 North American Meeting
October 11, 2019
Wayne, PA – AD's U.S. Plumbing, Heating, Cooling and Pipe Business Unit hosted a record-breaking North American Meeting Sep. 16-19, 2019, with over 1,030 attendees including 190 first-timers. This was one of several major gatherings AD hosts for members and supplier partners in the U.S., Mexico and Canada, seen as pinnacle events for networking, relationship building and recognizing excellence.
The theme of the year's meetings is "All In," described as absolute commitment, pushing the status quo, getting fully involved and having an unwavering drive with customers, business partners and fellow associates.
At the Grapevine, Texas meeting, members and supplier partners were inspired and challenged to use their relationship with AD to further strengthen their overall business through programs like HR Services, eCommerce Solutions and Procurement Services. While at divisional business meetings, attendees heard highlights of strategic opportunities to finish the balance of the year strong.
"We were excited to report that each of our U.S. PHCP division's results thus far in 2019 are extremely positive," Jeffrey Beall, AD's PHCP business unit president said. "The multi-divisional model allows us to invest in programs that help our members grow, stay relevant and continue to build a sustainable business. This year, we welcomed 12 new member companies and 20 new supplier partners across plumbing, pipe, valves and fittings, and heating, ventilation and air conditioning to the AD community."
The growth PHCP has experienced in 2019 is emblematic of the success AD has seen collectively, welcoming over 240 new members across 10 of its 12 divisions to date.
At this year's meeting, CEO and Chairman Bill Weisberg took the opportunity to share key details on what's tracking as a record-breaking AD year, illustrating just how "All In" AD is for its members and supplier partners. Highlights included:
A projected $46 billion in member sales this year
Year-to-date 9% increase in total member purchases in the group
Expected purchases from AD supplier partners are on track to grow by $1.2 billion
PHCP honored excellence by members and supplier partners during its annual Spirit of Independence awards banquet. Awards were presented to:
2019 Member of the Year, HVAC: F.W. Webb Co.
2019 Supplier of the Year, HVAC: Friedrich Air Conditioning Co.
2019 Member of the Year, Plumbing: Consolidated Supply Co.
2019 Supplier of the Year, Plumbing: Watts Water Technologies
2019 Member of the Year, PVF: Charles D. Sheehy, Inc.
2019 Supplier of the Year, PVF: Dodson Global, Inc.
2019 Best Field Marketing Summit: First Supply
2019 Giving Back Award: American Pipe & Supply Co., Inc.
2019 Best Conversion to AD Supplier: F.W. Webb Co., Etna Supply Company, Pace Supply Corp., Southern Pipe & Supply, and Texas Plumbing Supply Co., Inc.
In addition, the following companies were recognized as Best Workplaces for 2019 by achieving an overall engagement score of 85% or greater on a third-party engagement survey:
At the awards ceremony, the U.S. PHCP community also took the opportunity to applaud Weisberg, who this year is celebrating 35 years of commitment to AD.
Beall added, "We use this time together to listen generously to our members and supplier partners. The individual business meetings, strategic networking engagements and conference booth sessions are the best time to communicate and reinforce our enriched value proposition. We gather survey feedback and work with our divisional boards for guidance on how to raise the bar year over year, which allows us to continuously be adding increased value to our attendees at the North American Meeting."