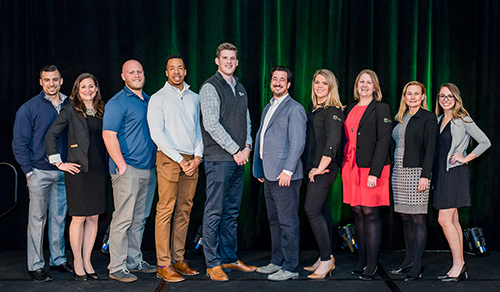 AD Hosts 2nd Annual eCommerce Summit
February 20, 2018
From February 7-9, 2018, AD proudly hosted their second annual eCommerce Summit at the Westin in Denver, CO. Over 250 AD Independent Distributors across 6 industries and 3 countries were in attendance.
Featuring 100% member-curated content, this year's Summit focused on strategy, objectives, and tactics for independent distributors looking to win in an evolving digital world. The event included one-on-one expert coaching sessions, sharing best practices, platform focused networking, member-led panels, and keynote speeches from industry experts.
During the awards ceremony the following AD Members were presented with eCommerce Member of the Year Awards:
AD Industrial eCommerce Member of the: N.H. Bragg & Sons
AD Electrical eCommerce Member of the Year: North Coast Electric Co.
AD Plumbing eCommerce Member of the Year: Consolidated Supply Co.
AD PVF eCommerce Member of the Year: Cooney Brothers
AD HVAC eCommerce Member of the Year: Peirce-Phelps, Inc.
Karla Neupert Hockley, President of Consolidated Supply Co. reflected on their eCommerce journey, "Consolidated Supply Co. is honored to have been selected as the Plumbing eCommerce Member of the Year. We joined AD 17 months ago and one of the primary drivers of our decision was their eCommerce vision. AD's leadership demonstrated their clear commitment to their members' successful migration to eCommerce, by the talented staff they had assembled. They had a plan for their members and were executing on it. A successful B2B eCommerce strategy is table stakes for today's independent distributor. AD recognized this and aligned with quality third party vendors to give members choices as we open our digital branches. Consolidated is blessed to be celebrating our 90th anniversary in 2018 and we know that delivering a best in class eCommerce user experience is vital to our future. Remaining relevant in this rapidly changing business environment is key to all of us and we greatly appreciate AD's vision, support and engagement in our effort to accomplish this."
Jon Eames, President at N.H. Bragg reacted to the win, "N.H. Bragg is humbled to receive this honor. The N.H Bragg team takes our eCommerce presence seriously and I am personally grateful for all the hard work my team puts into this initiative. AD's motto, 'Together, we win' has never been more relevant than when you look at what AD Independents have been able to accomplish in the world of eCommerce. From the creation of over 2.4 Million SKUs to the hundreds of Independents now sharing eCommerce best practices at the AD eCommerce Summit – it is quite powerful what we can accomplish when we work together. We are proud to be part of the AD organization."
Les Johnson, SVP/CIO at North Cost Electric Co. shared, "We at North Coast Electric are honored to accept this award. The other three nominees, who are all represented on the Electrical eCommerce Steering Committee, have provided leadership and guidance to help make AD's eCommerce initiatives successful. We recognize this achievement reflects the contributions of many North Coast associates and thank them for their dedication. We are also grateful to AD for their investment in eCommerce and for their support of our company throughout our eCommerce journey. We will continue to work with our fellow AD Independents as we leverage the scale of AD to make eCommerce an integral part of our companies' successful future."
Gerry Cooney, President of Cooney Brothers said, "We are honored and humbled to receive this award. Nothing could be more important to an Independent Distributor today than investing in eCommerce and we are so grateful to AD for their leadership and for leveraging their scale to get us the tools we need to succeed, from SKU creation to consultative services to the Unilog CIMM2 platform, it all has been incredibly helpful. I am not sure where we would be if it wasn't for AD rocketing us ahead in our eCommerce journey."
Michael Peirce, Peirce-Phelps Vice President, Technology Services shared, "Peirce-Phelps is honored to be chosen the AD eCommerce member of the year. As an HVAC distributor, we have been selling to our customers online for over 20 years. We continually work to provide an ecommerce site where our dealers can make a good buying decision without having to know the model number of the items they need. With the help of AD's eContent, we are able to enrich our product information significantly and our customers can now search for items by their description or other product attributes and verify them before they buy. Peirce-Phelps is thankful for AD and their partners in developing a viable solution that allows us to deliver the online shopping experience our customers expect."
To date, AD eCommerce Solutions has built, normalized and attributed over 2.5 Million SKUS across 6 AD industries.
The AD eCommerce Summit was sponsored by Brady, Leviton, Viega, Unilog, B2X Partners, Epicor, and IDEA.