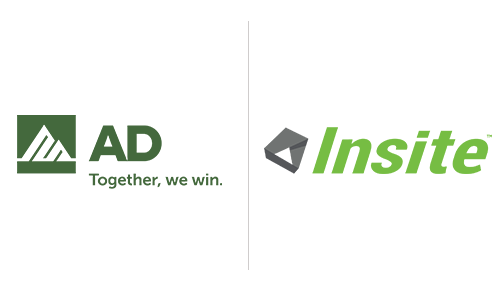 AD expands suite of eCommerce service providers, announces partnership with Insite Software
October 15, 2019
Wayne, PA – AD, the member-owned contractor and industrial products wholesale buying and marketing group, is pleased to announce it's adding a strategic partner to its eCommerce portfolio. In addition to its existing relationship with Unilog, AD has added Insite Software, a leading provider of B2B eCommerce Solutions to its complement of eCommerce platform providers.
InsiteCommerce, Insite Software's eCommerce solution, offers AD members a fully configurable and extensible solution built with robust native B2B functionality and designed to integrate with business systems like ERP and PIM.
In its fourth year and with over 100 members (and counting) now live with AD eContent, AD's eCommerce Solutions program has grown to include strategic service providers Unilog, EPICOR ECC and IDEA, as well as numerous referral service providers including Moblico, PunchOut2Go, Custom Safety Products, Olark, Bounteous, Conexiom, EVO B2B, and Snap36.
Caroline Ernst, vice president of eCommerce Solutions at AD said the team is constantly evaluating ways to improve its service offerings for members.
"We partner with the best digital service providers and are excited that Insite will join our existing bench of partners," she said. "In addition to updated and enhanced product content and a full-time in-house team, one of our core offerings is access to vetted and reputable service providers that can support our members as they grow their businesses online. Our service provider partners help members navigate the eCommerce journey, from webstore build, to product information management, analytics and reporting, live chat software, and more."
Over 20 AD member and supplier eCommerce platforms are currently powered by InsiteCommerce.
Steve Shaffer, CEO of Insite Software, said his company is looking forward to helping AD's members advance their digital branch.
"AD's mission to help independent distributors outperform the competition makes them a perfect fit to partner with Insite," he said. "We believe B2B eCommerce is more than just a website, it's transformational. We build digital commerce solutions built for B2B and designed to handle all the complexities manufacturers and distributors face. We are eager to partner with AD members and help them grow their businesses online."
Suchit Bachalli, CEO of Unilog, shared that Unilog is committed to growing and enriching the eCommerce program alongside AD.
"We welcome the expansion of the service provider network," he said. "Every member has a unique need depending on where they are in their Digital Maturity Model. Insite is a respected platform in the B2B space and a welcome addition to the program."
Ernst said to companies considering eCommerce, "I know taking the first step toward launching eCommerce can feel daunting, but you'll never be alone. Our dedicated internal team have helped 100 of your peers, who were once in your shoes, go live and modernize their sales approach. And they're bolstered by excellent vendor partners like Unilog and Insite. You can be next, and we can help."
About Insite Software
Insite Software is the leading provider of powerful digital commerce solutions architected for manufacturers and distributors. The InsiteCommerce® suite of products goes beyond commerce to connect people, products and channels for a rich, omnichannel experience. Insite believes eCommerce is more than a website. It's about transforming your business and delivering a best-in-class experience for your customers, partners and sales team. With more fully-supported, native, B2B capabilities out-of-the-box than any other platform in the marketplace, paired with built-in extensibility, Insite delivers digital commerce without compromise. For more information, visit Insite Software at insitesoft.com.