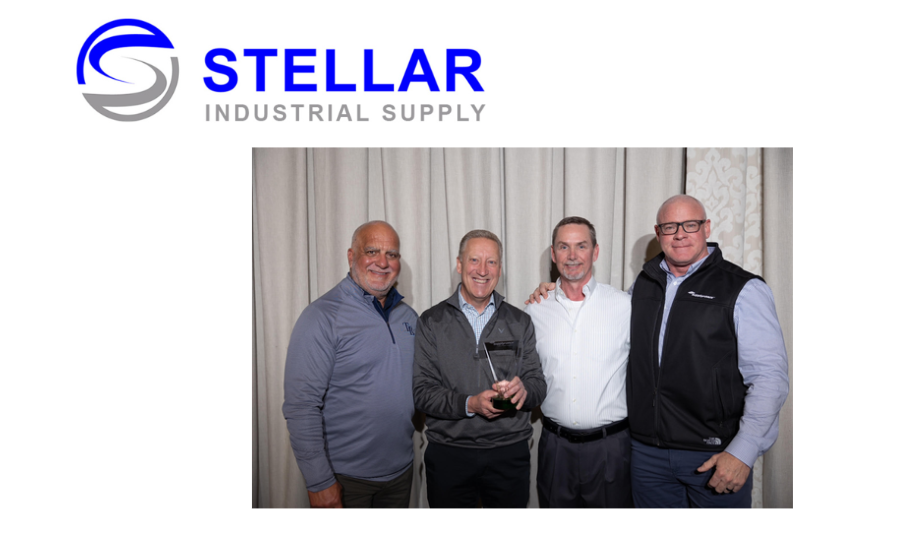 Stellar Industrial Supply wins supplyFORCE Awards for Excellence–Member of the Year 2022
March 16, 2023
Tacoma, WA, March 15 2023 — Stellar Industrial Supply, which distributes more than 35,000 MRO (maintenance, repair and operation) products and tools from more than 1,500 brands for Safety, Metalworking, and Marine Supply, general manufacturing and processing, machine and metalworking shops, and marine and construction organizations, and also offers customized Indirect Material Management solutions, today announced it has won the coveted supplyFORCE Awards for Excellence–Member of the Year 2022. Stellar Industrial Supply also won the award in 2013 and 2016. 
supplyFORCE is a leading provider of total procurement solutions and services. It connects clients with national programs, and an ecosystem of people, processes, and technologies. In collaboration with its member distributor network and manufacturer partners, supplyFORCE saved its customers over $22 million in the past year. 
"It's my pleasure to recognize Stellar Industrial Supply once again with the supplyFORCE Awards for Excellence – Member of the Year 2022 for their commendable service and support that continues to be recognized by our clients. From their committed staff of experts providing superb communication throughout the ecosystem, including supplyFORCE, Manufacturer Partners and Member Partners, to first-class innovation, due diligence, and continual follow-up to deliver TCO savings, Stellar Industrial Supply truly exemplifies the spirit of the award by excelling across all aspects of supplyFORCE–centric activities," said Ljupco Icevski, supplyForce president and CEO. "supplyFORCE congratulates our partner on their achievements and looks forward to continuing our work together in providing superior service and results,"continued Icevski. 
Stellar Industrial Supply is a member of the supplyFORCE network of manufacturers and supplier partners who have demonstrated unmatched product and application expertise in specific local regions. The supplyFORCE Awards for Excellence recognizes industry leadership, extraordinary contributions to the success of supplyFORCE agreements, and excellent overall performance across their membership.  
"We are excited and very humbled to be named supplyFORCE 2022 Member of the Year. There are close to 300 very hard working companies that make up the supplyFORCE network, making this award quite an honor for Stellar Industrial Supply, and underscores our deep commitment to delivering value and efficiencies for our partners and customers," said Stellar Industrial Supply President and CEO John S. Wiborg.  
Stellar Industrial Supply provides coast-to-coast support for its customers, boasting 17 regional hubs, including: Portland, OR, Albany, OR, Everett, WA Tacoma, WA, Seattle, WA, Spokane, WA, Los Angeles-Metro, Upland, CA, Central Valley, CA (San Luis Obispo, Ventura), Denver, CO, Billings, MT, Phoenix, AZ, Lawrence, PA, Sparks, NV, and Tampa, FL. 
The Stellar Industrial Supply DCS program aims to foster "Ideal Customer-Supplier Partnerships." Working on behalf of both parties, Stellar Industrial Supply deploys the most efficient, cost-effective products that optimize plant operations and help run them smartly and safely. Since its inception in 2010, the DCS program has generated over $165M in cost savings, all of which are customer verified.  The program saved customers nearly $18 million in total in 2022, and on average, Stellar customers realized nearly 21% in customer approved documented savings.