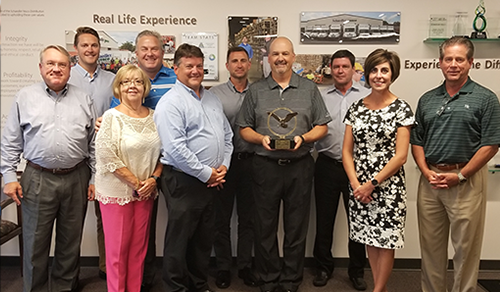 Siemens Awards Schaedler Yesco Prestigious Eagle Award
August 28, 2019
Harrisburg, PA – On Tuesday, August 13, 2019, Siemens awarded Schaedler Yesco Distribution, Inc. their prestigious Business Excellence Eagle Award.
The Business Excellence Eagle Award is the highest honor a distributor can receive from Siemens. Each year, Siemens distributor partners are reviewed for core product growth, collaborative marketing, and overall performance and partnership. Only twelve distributors nationwide received the award for 2018 performance in the construction category.
"Schaedler Yesco has always been a good partner for Siemens with these objectives and truly excelled in these categories in 2018," explained Marshall Hunter, Siemens Regional Channel Manager. "Congratulations on a job well done and a much‐deserved Business Excellence Eagle!"
Schaedler Yesco Distribution, established in 1924, is a 4th generation family‐ and employee‐owned provider of complete connected solutions for the electrical industry. With 21 locations throughout Pennsylvania, the company offers services and products for lighting, datacomm, automation and industrial needs. To learn more about SYD visit www.sydist.com.
Photo Details: The management team at Schaedler Yesco Distribution, Inc. receives the Siemens Business Excellence Eagle Award on August 13.