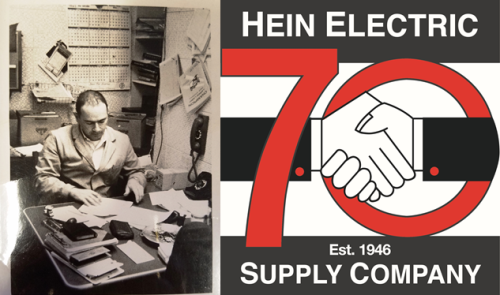 Sidney Kohlenberg, Hein Electric Supply Company, dies at 91
October 31, 2016
Sidney "Sid" Kohlenberg passed away on October 20, 2016, at the age of 91.  Sidney served as a US Navy photographer during WWII.  He was honorably discharged in 1946 as Photographer Mate First Class.  In 1946, he became sole owner of Hein Electric Supply, and served as President of Hein Electric Supply until 1990.  
Sid Kohlenberg built Hein Electric Supply on a foundation of customer service, quality products, and the values of honesty and integrity.  People always came first.  He proved daily that everyone within the organization or connected to it, including employees, their families, the vendors, and the customers, had a vital role in the company's success.   It is these core values that continue to resonate throughout the culture of Hein Electric Supply. 
"What makes our people so special?  When you have salespeople who are courteous, know the products, and above all, are genuinely concerned with your needs—that's special.  When you have office people who greet you with a happy voice, expedite your orders, and answer all of your questions as if you were the only person on earth—that's special. And finally, when you have purchasing people who have the "very" thing you wanted in stock or know where to get it for you quickly—that's special. We would like to supply you with our products, of course, but it's our special people of whom we are most proud."       - Mr. Sid Kohlenberg.  1969.
On behalf of AD, our thoughts and prayers are with the entire Hein Electric team.
Hein Electric Supply West Allis Corporate Offices and Main Service Center are open Monday to Friday from 6am to 5pm, and Saturday from 8am to Noon.  The  8 other service center locations including Downtown Milwaukee, Grafton, Menomonee Falls, Pewaukee, Oak Creek, Oconomowoc, Waukesha and West Bend which are open Monday to Friday from 630am to 4pm.
Contact: Laura Longston, Director of Marketing Hein Electric Supply Co.,
2030 S. 116th Street, West Allis, WI 53227