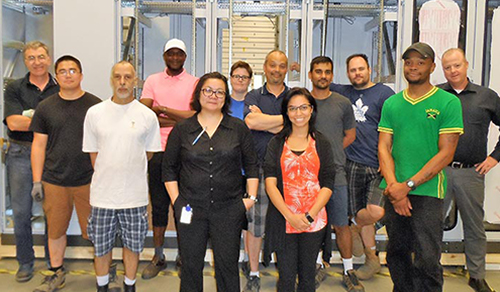 Rittal Systems makes the list of Canada's Top 10 Best Places to Work® in Manufacturing
July 5, 2017
Mississauga, ON - AD Canada Supplier Rittal Systems Ltd. is proud to be recognized as one of the top ten Best Workplaces in Manufacturing in Canada in 2017 as announced by Great Place to Work®. This prestigious list is compiled based on direct feedback from employees of hundreds of organizations that were surveyed with manufacturing facilities in Canada and a minimum 90% positive response to the statement "This is a physically safe place to work". The data has a 90% confidence, a plus or minus 5% margin of error, and is based the overall Trust Index score of eligible organizations.
This year's Best Workplaces in Manufacturing highlights the best this industry has to offer. By employing skilled workers and high tech automation processes, Rittal Systems Ltd. competes on a global scale with quality products of which their employees can feel proud. Rittal employs over 11,000 people in 80 countries, and is the only truly global provider of electrical enclosure solutions in the world. With more than 30,000 square feet of warehouse space and 2,000 part numbers in stock in Mississauga, Ontario, Rittal Canada provides countless enclosure variations that can be installed anywhere, from the factory floor to outdoor applications. Rittal's extremely high moral and ethical values are practiced globally are displayed in every office, focused on enabling, developing and training employees to provide customers the best possible experience with best in class products.
Tim Rourke, President, Rittal Systems Ltd., said, "Rittal Systems always remains on the cutting-edge of technology, which makes us a great career choice for skilled technical people. For instance, we have recently introduced the Perforex machine which empowers our distributors and Modification department to significantly improve efficiency and delivery times; and our Blue e+ hybrid cooling technology enables us to deliver second-to-none enclosure cooling systems. Above all, we value our employees in every department from our Designers to our Warehouse personnel, as we recognize that it is their dedication and commitment that enables us to keep satisfying our customers."
About Rittal Systems
Rittal Systems Ltd., headquartered in Mississauga, Ontario, is the Canadian Subsidiary of Rittal GmbH & Co. KG, Germany, which is the world's leading system supplier for enclosures, power distribution, climate control, IT infrastructure and software & services. Founded in 1961, Rittal is now active worldwide with 10 production sites, 63 subsidiaries and 40 agencies. With over 11,000 employees worldwide, Rittal is the largest company of the proprietor-run Friedhelm Loh Group of Haiger, Germany.
About Great Place to Work
Great Place to Work® (GPTW) is the global authority on high-trust, high-performance workplace cultures. Through proprietary assessment tools, advisory services, and certification programs, GPTW recognizes the world's Best Workplaces in a series of national lists including those published by Fortune magazine (USA) and The Globe & Mail (Canada). Great Place to Work® provides the benchmarks, framework, and expertise needed to create, sustain, and recognize outstanding workplace cultures. @GPTW_Canada