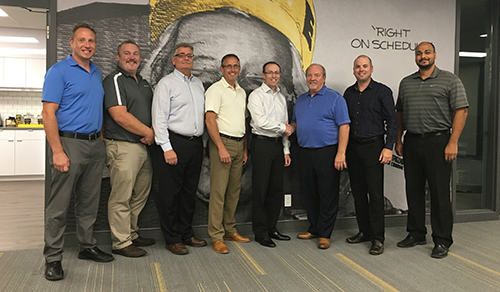 Introducing the Launch of Electrozad's Process Business Unit
November 15, 2018
AD Canada Electrical Member Electrozad has enhanced its process solution capabilities with the creation and launch of their process business unit, a move which supports the company's history of staying on the leading edge of technology and striving for industry diversification, while offering end to end client solutions.
The alignment will continue to provide differentiated value to Electrozad's customers in the food and beverage, petrochemical, pharmaceutical, water/wastewater, and biotechnology verticals.
"The creation of this strategic unit provides the ability for a heightened focus on strategies, partnerships, and solutions for our customers specific to this space," said William C. Smith, President of Electrozad Supply Company. "It will enable our team to be more creative and innovative as we continue to expand this business."
As the authorized distributor for Rockwell Automation, Electrozad first introduced its customers to the modern distributed control system (DCS) with the launch of Rockwell's PlantPAx system in 2008. The system combines the plant-wide control technologies and unmatched scalability of Rockwell Automation Integrated Architecture® with the core capabilities expected in a world-class distributed control system (DCS). Since the platform's release, it has continually evolved and expanded in order to offer enhanced automation productivity to help meet customer's operational goals.
Further driving the company's solutions business forward, in 2016, Electrozad Supply concluded an agreement with Endress+Hauser, a global leader in process measurement and instrumentation, making the independent electrical distributor an Authorized Channel Partner of the latter. The move, which leverages the strategic relationship between Rockwell Automation and Endress+Hauser Canada Ltd., is a major development for the process automation sector in Canada.
Electrozad Supply now can provide its process automation customers with new cost saving opportunities through the enhanced integration of Endress+Hauser's measurement technology with the Rockwell Automation platform. Pre-tested and validated designs from Rockwell Automation and Endress+Hauser help reduce the costs associated with bringing new measuring points or a new production line into the manufacturing facility. It also minimizes the risk of adopting new technology.
"Many operators in the Canadian process sector have been looking for the right entry point to the world of Industry 4.0/Industrial Internet of Things," says Anthony Varga, CEO and General Manager at Endress+Hauser Canada. "Our strong partnership with Rockwell Automation and Electrozad Supply will show them the way forward, helping them identify and implement solutions that enhance their business while delivering a solid return on investment."
Most recently, an essential partnership has been signed with SAMSON Controls to further Electrozad's offering as a complete process solutions supplier. SAMSON develops and manufactures the highest quality process control solutions including valves, actuators, and accessories. With over 100 years of experience and expertise, SAMSON has become the trusted name in many of the worlds most challenging applications requiring precise control with a high level of safety and reliability.
Along with the additional process vendors, Electrozad has expanded their dedicated personnel by adding a Process and Solutions Specialist position to lead the technical aspects of the business. Graeme Weaver has brought an extensive design background to the Electrozad team, advancing the value of early involvement and continued engagement by the company in a process project. These partnerships, coupled with Rockwell Automation and other Encompass Partners enables Electrozad to provide the most complete solution of instruments, process control, information and mobility, and intelligent power to maximize the connected enterprise.
Electrozad Supply was incorporated in the City of Windsor in 1955 and has grown to be the largest independently owned Electrical Distributor in Southwestern Ontario.
For interviews or further information:
Electrozad
Robert Reilly, Director, Industrial Automation
rpreilly@electrozad.com
519-336-6385

Endress+Hauser Canada Ltd
Jason Mapplebeck
jason.mapplebeck@ca.endress.com
905-681-4258

Samson Controls Inc.
Joe Ferraro
joe.ferraro@samsongroupna.com
647-280-3949
Photo Details: Electrozad and SAMSON Controls Inc.