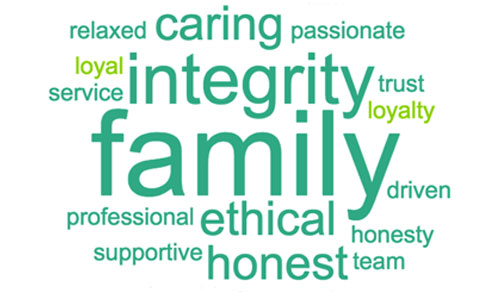 In Words: The Best Cultures in Distribution
June 27, 2018
This article follows a presentation at the 2018 AD Finance & HR Summit in Denver, CO. In a panel session facilitated by Fraser Marlow (Head of research at Energage), Pauline Mueller (Director HR & Training and Development at Consolidated Supply Co.), Stacie Osako (Human Resources Manager at Van Meter) and Kara Morley (Director, Organizational Development at Werner Electric) discussed the dynamics of workplace culture, talent management and leadership development at member organizations. All three of these organizations are recognized as Top Workplaces in their respective regions. 
If, like us, you believe that culture is a main driver of business success, then you will be looking for ways to better understand where your culture stands and how to align it with the one you aspire to build. 
An effective way to do this is to survey your employees and find out what they think. After all, Culture is not what you say it is, it is how all employees perceive and respond to it. 
A survey, backed with a world-class benchmark, will give you a lot of insightful data. But if you go by numbers and bar charts alone, you can lose the narrative, the real story of what is going on at your company. We have seen this happen a lot. 
People don't always connect well with statistics, but they do connect strongly with stories. So to help you understand and tell the story of your culture we create culture clouds based on our extensive Top Workplaces research. The question we ask employees is this:
 "What three words best describe the culture at your organization?" 
To date we've collected more than 5.5 million individual words. In the last year alone, we analyzed over 2.9 million words from 1 million employees at more than 6,000 organizations. 
We asked this question at over one hundred distribution companies in the last 12 months. We then looked at those words that were used exclusively or much more frequently in best-in-class companies. We define "best-in-class" as those scoring close to twice the national average for employee engagement, as recognized in Energage's Top Workplaces program. 
Why engagement? Because all companies have fairly unique cultures, but we can measure how effective that culture is and how strongly employees connect with it by measuring individual responses and gauging engagement levels within the workforce.
As the word cloud below illustrates, best-in-class distribution companies tend to be described as energetic, collaborative, innovative and competitive. These appear to be desirable traits in a winning distribution firm. Other terms in this culture cloud will no doubt jump out for you. It's worth noting that 'tenacious' and 'tribal' are both terms unique to this industry.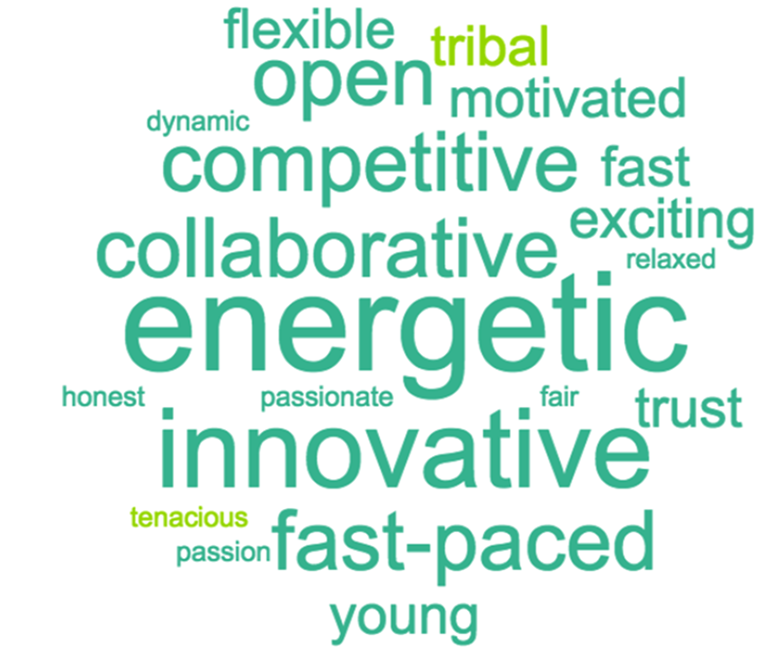 Analysis of terms used with higher frequency by highly-engaged employees in distribution companies when describing their culture. © Energage, LLC 2018
The size of each word shows us how often the term was used to describe an organization's culture. But given the size of our data set, it's important to note that smaller words are still significant.
Interesting, but… ? 
So, what should we do we do with this information?  
The first step is to ask ourselves, where does our culture sit today in comparison? Cultures are not cookie-cutter, and we would not advocate explicitly trying to mimic the words in this 'best-of-class' word cloud. But using this as yardstick against which to evaluate your own culture will help. 
Pay attention to the way your employees talk about the workplace, their colleagues and the company as a whole. Are the words positive, energizing or are they deflating? 
Note: people who are passionate about their own workplaces will use both positive terms, but will also be critical about improving the culture. If employees are less caring, their terms may not be downright negative, but will be more generic and neutral. So look for the more polarizing terms, like the ones in the image above.
Engaged cultures are aligned cultures
One key takeaway from our research is that in highly engaged workplaces, the terms used by employees align tightly with the espoused values of the organization. This does not mean that people can regurgitate some mission statement that is pasted on the office wall. It means that they genuinely buy in to the values and want to bring them to life.  
"In highly engaged workplaces, the terms used by employees align tightly with the espoused values of the organization." 
Conversely, if the words employees use to describe the culture go counter to your espoused values, you know you are not there yet, and have plenty of work to do to bring people around.
Culture starts at the top
If employees are not using terms like the ones in the word cloud, look to your leadership team. This is where you have start if you want to change the narrative. If the senior leaders are inspirational and truly believe in these values, they can intentionally adopt this language and model the behaviors. Pretty soon middle-managers will follow suit. Eventually your more engaged front-line employees will adopt them too - not just in words but in everyday work, bringing the rest of the team along.   
Some employees may end up feeling out of place, and will never relate to this reenergized culture you are building. In the long term they may leave, but this is a price worth paying if you seek to build a strong team and an intentional culture.
Language matters
The way in which we use language matters. As leaders, use words to craft how people picture the world and envisage the future. We use it to define who we are and what we will not accept. As managers, use words to help people connect to the organization and the rest of the team. As employees, being aligned to values builds our sense of belonging and purpose.   
Be sure to pay attention to how you define the culture you aspire to build and listen carefully to how people describe it today. Then work everyday to bring these two into alignment. 
About the author: Fraser heads up the research and marketing efforts at Energage. As the author of many articles on the topic of employee engagement and coaching, Fraser brings a broad perspective on how organizational culture impacts business results. Fraser is co-author of 'The Engagement Equation' (Wiley 2012), a comprehensive senior executive guide to building stronger engagement strategies. He's a frequent speaker at conferences and events, sharing the many insights from a decade of Top Workplaces research.  
Energage is an AD HR Service Provider. To learn more about AD HR Services, reach out to Neil Cohen, Senior Vice-President of Human Resources at ncohen@adhq.com