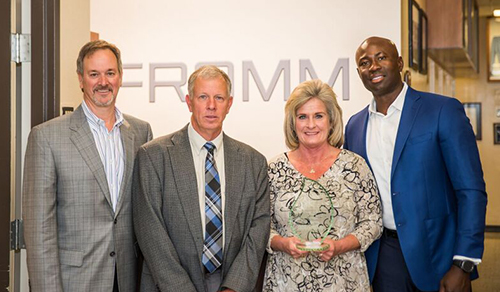 Holophane Award Presented to Jill Klodowski of Fromm Electric
June 2, 2017
On Thursday, May 12, 2017, Fromm Electric's Senior Account Manager, Jill Klodowski, was presented with a special award of recognition by officials from Holophane Lighting for her outstanding work in promoting the Holophane Brand and securing a $900,000 re-lighting project at SAPA Extrusions Inc. in Cressona, PA. Holophane is one of Acuity's many strong brands.
Teaming with Holophane Senior Sales Representative Ken Roth, Jill fended off the competition by building customer confidence in the Fromm-Holophane solution and leveraging the reputations and past performance of both companies to win this major order. Jill's knowledge of SAPA operations and her relationship with facility personnel played a key role.
As Raymund Taire, Holophane Regional Industrial Sales Director, put it: "Because of partners like you who understand our shared value proposition, we have been and continue to be, successful in the marketplace."
Congratulations to Jill on this well-deserved recognition by Holophane Lighting! Fromm Electric is a Founding Member of AD's US Electrical Division and is headquartered in Reading, PA. Acuity Brands, Inc. is one of AD's Premier Marketing Partners, headquartered in Conyers, GA and is a prominent AD supplier in the US and Mexico.
Photo Details from Left to Right:
Jon Gerhart, VP, Industrial Sales, Fromm Electric
Ken Roth, Sr. Sales Rep, Holophane Lighting
Jill Klodowski, Sr. Acct. Manager, Fromm Electric
Raymund Taire, Regional Industrial Sales Director, Holophane Lighting