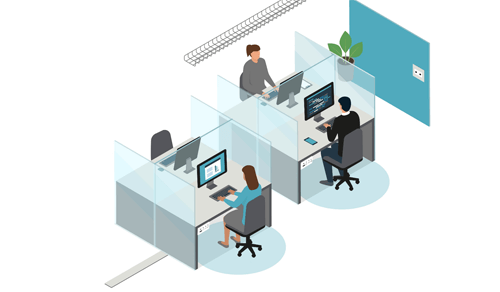 Get Flexible: A Look at the Post-COVID Office for Your Facility Customers
April 28, 2021
Right before the COVID-19 pandemic, commercial offices were in what the Northern Trust Corporation reported as "reasonably balanced condition, with steady vacancy rates and solid rental rates." But we all know what happened next. A mass exodus began as many companies pivoted to remote work, leaving many of their commercial office spaces empty.
Remote work has been widely well-received: 83% of employers think it's working out, according to PwC. That's up from 73% when the same survey was sent out in June 2020—a full 10 point increase. But the office as we know it? That's changing, but not going away. Only 13% of executives want to leave offices completely, and 55% of employees want a hybrid schedule with at least three days of remote work per week. By the end of 2021, nearly all companies surveyed by PwC expect to support 50% capacity—a figure that looks promising as vaccine rollout continues.
Flexibility is top of mind. As the statistics from surveys suggest, both employers and employees are seeking out hybrid schedules and work spaces. But what does this mean for you? Here's what your facility customers are thinking about, and this is how you can help. The three biggest areas that will need flexibility are the lease terms, work policies and office floor design.
Flexible lease terms
Because of the impact of COVID, staggered schedules and hybrid work arrangements will likely pick up in popularity. That means that an employer is no longer shopping for one large building to house 100% of its employees, 100% of the time. Commercial leases typically last 3-5 years, so despite the great changes over 2020—many companies are still locked into a building lease. However, going forward, nearly all executives (87%) plan to change their real estate strategy in some way, whether it's reducing or increasing their office space footprint. And it's not mostly reduction. In fact, it's the opposite: Only 31% of executives anticipate needing less office space in three years. There's a lot of value in the office space for executives, who see many benefits from in-person work. According to The New York Times, "...executives believe having employees working side by side improves collaboration, supports the development of younger employees and nurtures the heart and soul of any company—its culture."
Employers now realize that it's in their benefit to seek out flexible leases with properties and technology. In a mirroring of the way consumers crave zero commitment subscriptions, so will the employers of tomorrow. As COVID has shown us, anything can happen. Many employers could be hesitant to lock themselves into long leases on big buildings, opting instead for hybrid solutions with negotiable terms.
In the meantime, plenty of buildings continue under long, traditional leases. For you, this means that your facility customers are likely considering updates and renovations, especially as the CARES Act encourages non-residential renovations with a full tax write-off. A wide variety of electrical solutions apply, so it's an opportune time to bring up options that help refresh the building for when people start returning more regularly.
Flexible work policies
Another trend that may emerge out of the pandemic is flexibility for the workers themselves. A rise in more open work policies is coming. It's estimated that 25-30% of the workforce will be working from home several days a week by the end of 2022.
Many workers want WFH or remote work at least part of the time. 83% want to continue working remotely at least once per week. As we learned from PwC, slightly over half of employees see three times a week as the perfect mix. According to another source, over ⅓ would take a pay cut for this perk. Additionally, they may want to set their own hours, coming and going as they need to accommodate child care, healthcare and other personal matters that make up a large part of the work-life balance.
While hybrid work policies will likely continue, the buildings aren't going anywhere. Most facility customers will want to prep spaces so that they can accommodate varying shifts of workers, leading us to the next area to consider.
Flexible office floor design
The CDC recommends a number of precautionary measures for design of the office floor. Notably, the first recommendation for hazard control involves reconfiguration of the space. To maintain social distancing guidelines of six feet in between people, it's suggested that employers "modify or adjust seats, furniture and workstations."
Many of your facility customers are working with buildings designed for 100% capacity spread across workstations that aren't very distant. A rise in the open floor plan encouraged off-the-cuff inspiration and collaboration, but the pandemic will likely change the way people sit together as more reports emerge that COVID might be here to stay. Desks will need to be spread apart. Some suggest the installation of glass or plastic "sneeze guards" between desks. There have even been some rumors about cubicles making their way back, as the great intermingling of workers will need to be redesigned.
Because it's difficult to redo an entire office space quickly, many facility teams will lean on flexible reconfigurations rather than full redesigns. With the existing furniture, new layouts can be quickly set up. Workstations can sit alone or with dividers, and disinfecting supplies should be nearby. Additionally, a separate power source helps eliminate the risk of transmission by keeping employees from sharing outlets.
The above image is one example office layout for workstations, showing partitions and a new arrangement for desks.
Flexible designs also lend themselves well to flexibility in the lease terms and work policies. The less complex the setup, the easier it will be for facility teams to change quickly. This makes a space ready for whatever may come, ranging from lockdown orders to come-and-go staggered in-person schedules.
For facility teams and companies that need help, there are projects like The Six Feet Office and recommendations from BOMA that can assist with any pandemic office space planning. Additionally, for those that need help figuring out their plan for the electrical infrastructure, Legrand has a wide variety of power and charging options for the commercial office that you can offer to your customers.
The COVID-19 pandemic has certainly shaken the commercial office sector, causing big changes to the way people work that impact the design of office buildings. While it remains uncertain just exactly what will happen as we look out to the coming years, we know that flexibility across the lease, work policies and space design is powerful for any adaptable employer.