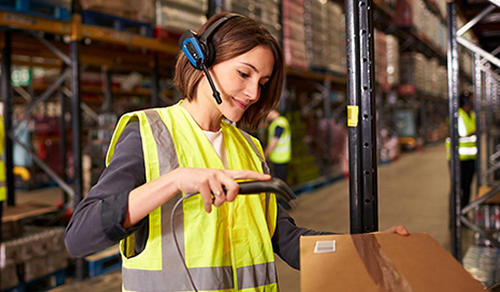 Four B2B Tech Trends That Will Transform Your Distribution Model
November 21, 2017
Conexiom is an AD Service Provider. To learn more about how to leverage AD's buying power through Conexiom, click here.
Say goodbye to the days when customers were happy to wait on average 9.4 days to receive their order. E-commerce giants like Amazon and eBay are changing the face of order fulfillment, offering next day or even same day purchase delivery. As a result, B2C and B2B buyers alike are beginning to expect the same fast, accurate distribution model, putting significant stress on businesses' order cycles.
2017 is the year distributors will need to explore new strategies to drive process efficiency and meet this major shift in customer expectations. In the process, technology and automation are going to become increasingly important to boost productivity and take the pressure off customer service teams:
1. Forecast Your Future
Do you know where your customers come from or when they order? In the year to come, understanding order flow and customer behavior could mean the difference between sustainable profit and rapid loss. Done correctly, data analytics will help you spot key bottlenecks and trends, such as peak order periods, so you're never caught short on stock to fulfill demand.
2. So Long OCR
Automation solutions which rely on Optical Character Recognition for data capture are substantially less accurate than their non-OCR equivalents. Characters like a straight line (i.e. "l") may be interpreted as the letter I, the letter i, or the number 1. With an accuracy rate of 95% at best, the chance that your customer receives the wrong part, color, quantity or even product is simply too high.
While some distributors may have the staff on hand to verify orders before they're finalized, smart companies will determine this to be an inefficient use of staff time and move away from OCR solutions this year to accelerate order processing and ensure customer satisfaction.
3. Justify E-commerce Spend
Although having an e-commerce platform is now table stakes for most distributors, a recent Modern Distribution Management study found that 74% of B2B customers still prefer email ordering. So how can you leverage your e-commerce investment, while letting buyers do business their way? By integrating non-OCR sales order automation with your e-commerce technology. Routing email order data through the same channel as online orders ensures customers can keep their preferred ordering method while you can attribute the powerful benefits of both technologies into one spend.
4. Introduce AI
You've reviewed your bottlenecks, improved your workflow and invested in automation. But what else can you do to enhance productivity? In 2017, a new breakthrough is set to revolutionize back-office, rules-based processes – robotic process automation. RPA solutions use machine learning to map enormous quantities of data, learning and adapting as they go. As a result, they can take over time consuming tasks like purchase order reconciliation without the need for either human intervention or explicitly programmed instructions. With this new technology on the horizon, watch this space for innovations to come.