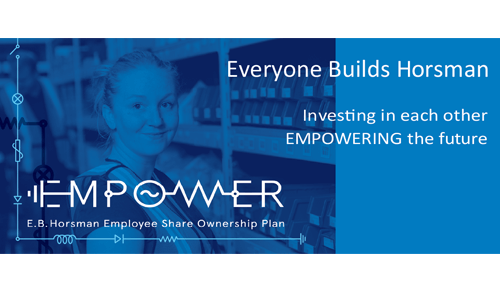 E.B. Horsman & Son Announces EMPOWER, their Employee Share Ownership Plan
October 30, 2020
E.B. Horsman & Son is excited to announce EMPOWER, their Employee Share Ownership Plan (ESOP).
The entrepreneurial spirit and exceptional commitment of their employees, customers and suppliers has helped them become one of the fastest-growing independently owned, full-line electrical distributors in Western Canada. EMPOWER is part of their long term strategy to remain "the electrical distributor of choice!"
"Our Employee Share Ownership Program, EMPOWER, is the natural evolution of our organizational culture," said Tim Horsman, President and CEO of E.B. Horsman & Son. "We have always benefited from encouraging an ownership mindset with our employees, so it only made sense that we have an ESOP that engages our team in an ownership program that rewards long-term enterprise value creation. Our team's engagement in a customer-first attitude, bias for action, aversion to bureaucracy and long-term vision has benefited us for five (5) generations – and EMPOWER truly reinforces those values."
In their 120th anniversary year, E.B. Horsman & Son's EMPOWER program is a significant milestone that sets the course for generations to come.
About E.B. Horsman & Son
E.B. Horsman & Son was established in 1900 in Moosomin, Saskatchewan. With more than 300 employees in 21 locations, E.B. Horsman & Son is one of the most progressive and fastest-growing independently owned full-line electrical distributors in Canada. Designated as one of Canada's Best Managed Companies, we continuously strive to improve ourselves and our capabilities to meet the ever-changing needs of the full line electrical, process instrumentation, industrial automation, lighting, and data communications markets. Our goal is to be each customer's Electrical Distributor of Choice by providing the best people, the best products and the best service.
For further information/comment/photos
Tyson Carvell, Vice President of Marketing, E.B. Horsman & Son
Ph: 1.778.545.9916; tcarvell@ebhorsman.com