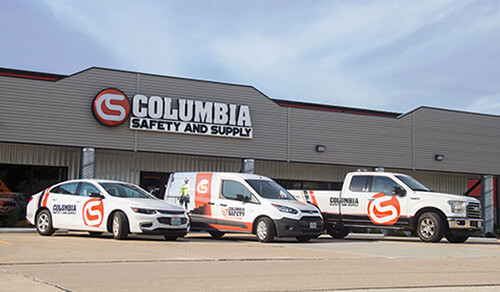 Columbia Safety & Supply Named Best Workplace for 2019
May 20, 2019
Columbia-Headquartered Equipment Supplier Gains National Accolades
COLUMBIA, MO (May 16, 2019) - AD Industrial & Safety Member Columbia Safety & Supply has been named one of Inc. magazine's Best Workplaces for 2019, in the fourth annual ranking of the fast-growing private company sector.
Inc. collected data nationwide and selected Columbia Safety & Supply as one of 346 finalists. Each finalist took part in an employee survey on topics including trust, management effectiveness, perks and confidence in the future. The Best Workplaces list will be featured in the June 2019 issue of Inc. and on Inc.com.
Andrea Seeley, human resources manager at Columbia Safety & Supply, says the survey results are thrilling but not entirely unexpected.
"We have a special environment here and our whole team is responsible for that," Seeley says about the company culture. "We put a lot of effort into hiring the right people and that ensures each employee is surrounded by a highly motivated and engaged group of team members."
The commitment to cultivating that special atmosphere is shared throughout the company.
Caleb Messer, the company's vice president of business development, says Columbia Safety & Supply stands out among other employers in several ways.
"Our management philosophy involves empowering all employees to make important decisions for our company," says Messer. "And we encourage our team to look out for one another by sharing information and feedback openly and often."
The company has been aggressively expanding its staff over the last few years. In 2018, the company added nearly 40 employees to its Columbia, Mo. Headquarters.
These rapid expansion measures have paid off. In 2018, Columbia Safety & Supply was awarded the Affiliated Distributors Member of the Year, an organization that boasts annual sales of $41 billion. Just last week, the company was named Supplier of the Year by Ericsson, a $210 billion stock listed company based in Sweden.
Bryan Dominique, regional account manager at Columbia Safety & Supply, says transitioning from a sales position at his previous employer in 2015 was an easy decision.
"We have a great support system for our account team here," says Dominique, "our departments do a fantastic job of providing resources to one another, so we can each concentrate on caring for our customers."
That level of employee engagement extends outside of the office as well. Columbia Safety & Supply and its employees make huge efforts to donate their time and money to charitable causes. Over $70,000 in charitable donations were made during 2018 via their philanthropic arm - the Columbia Foundation, in partnership with several regional benefactors like Great Circle, The Missouri Contemporary Ballet, Love Inc, the Humane Society of Central Missouri and several others.
Seeley says the company plans to add approximately 100 new positions over the next year and keep their entire staff well-equipped and satisfied in their roles.
Columbia Safety & Supply headquarters, located along Rangeline St. on E. Boone Industrial Blvd., offers some impressive perks for its employees. The facility features a full kitchen stocked with snacks, a gym, a production studio and multiple breakrooms. Along with these amenities, the company offers other benefits such as competitive salaries, health care, paid volunteer time off and flexible scheduling.
"Our employees are the major reason our company has seen above-market revenue growth year after year," says Beau Aero, company president. "We will continue to support our employees with above-average benefits."
For more information about the company and its products, visit www.colsafety.com or contact them by phone at (573) 355-5035.