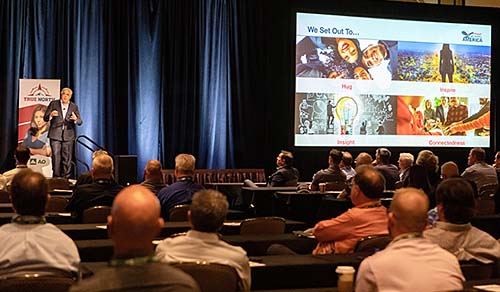 AD's Gypsum Supply Division fall meeting celebrates reconnections to stimulate future momentum
November 15, 2021
Phoenix – Together in person for the first time in over 18 months, AD Gypsum Supply welcomed divisional members Oct. 28-30 for its fall meeting. Recognizing the need to facilitate reconnections, the division also invited suppliers to what is normally a member-focused meeting. Over 320 attendees of member and supplier companies were represented at meeting, held at the Arizona Grand Resort.
At the division's business meeting, AD leaders called attendees to reflect on this year's meeting theme True North, designed to invoke deep thought on their core values and guiding principles as individuals, leaders, companies and as a part of the AD community, which was strengthened during the last two years. The event also brought several industry experts to share leading-edge insights with attendees.
Keith Hughes, 23-year veteran analyst and managing director of corporate and investment banking advisors Truist Securities, covered the interior and exterior product market review including wallboard and insulation metrics and availability, and provided insight into the 2022 residential and commercial forecast. Among the insights, wallboard volume is up approximately 10% year over year, single-family housing is up 19.5% in units year to date, and multi-family is up 17.2% in units year to date. On the non-residential side, spending is flat, but the architectural billings index pick up has remained positive since February.
Dirk Beveridge, founder of UnleashWD and author of "Innovate! How Successful Distributors Lead Change in Disruptive Times," shared key findings from his tour of 34 innovative and purpose-driving distribution businesses, which uncovered stories of these independent, entrepreneurial businesses.
"I was honored to join AD's inspired group and share strategies of forward-thinking business in wholesale distribution, Beveridge said. "The lessons from our We Supply America tour tightly align with AD's True North Meeting theme. I saw firsthand how important distributors are to this country. I also discovered a value system that consists of seven ethos defining the noble calling of distribution. For many, their True North includes purpose, people, family, entrepreneurialism, customer centricity, differentiating expertise and profit."
Divisional highlights prove sustainable growth
In addition to the guest speakers, Dan Maroni, president of the AD Building Materials Business Unit and Gypsum Supply Division addressed divisional growth, the value of mutually beneficial innovative program adoption and celebrating success. Maroni shared the following highlights.
Member expansion of over 20 new branch locations opening from 2019 – 2021
Divisional member sales are up 30% in 2021 compared to 2020
Future potential program of partnering with AD service provider Moblico on rolling out a member customer-facing app
Features of the member app include product list customization for quick orders or quick quotes any time of day, dispatch text direct to the customer when an order is in transit.
"We have a lot to be thankful for and a lot to celebrate," Maroni said. "Let's face it, suppliers, members, their employees and customers didn't just start coming back from the pandemic recently. They were part of the comeback from the beginning, working during the most uncertain time of our lifetime. All of you were and still are essential! I want to thank each of you personally for all the caring communication, hard work and desire to support your businesses, each other, and our organization. Our motto together, we win was never so important as in the last two years."
Other meeting highlights included a full day of face-to-face appointments, allowing time for members and suppliers to discuss mutual business challenges and collaborate on opportunities for the future. Additionally, formalized member best practice groups enabled participants to strengthen existing non-competing market relationships and the opportunity to build new relationships among the 15 first-time member meeting attendees.