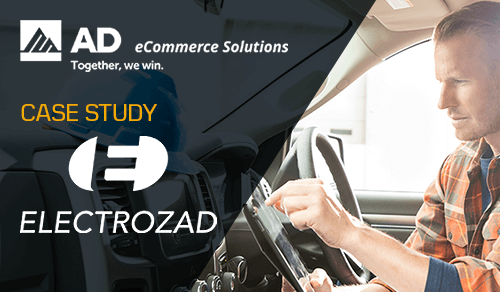 AD Member Electrozad's Digital Transformation Drives Growth in Customer Adoption and Sales
December 1, 2021
"If we can provide a consistent and high-quality experience across all our channels while solving our customers unique needs, we consider it a win. Increasingly, we're leveraging data and technology to strengthen our customer and supplier relationships, and make smarter, more informed decisions." - Dean Scott, Marketing Manager at Electrozad
Company Background
Electrozad was incorporated in the City of Windsor in 1955 and has grown to be one of the largest independently owned electrical distributors in Southwestern Ontario. From their founding, they have thrived on a culture of innovation, and strive to support their customer's electrical and automation projects with industry leading products, services, and expertise. Electrozad has five full-line stocking facilities located in Chatham, Sarnia, Windsor, and two in London, Ontario. They are a member of AD's Electrical – Canada Division.
The Challenge
As competition in the market increases, and as customers' purchasing behavior shifts to online, independent distributors are no longer able to solely rely on traditional sales and marketing tactics to reach their customers.
Factoring in the restrictions on face-to-face interaction caused by the COVID-19 pandemic, Electrozad recognized the importance of having a comprehensive omni-channel and digital strategy to offer value to their customers and meet their unique business needs. The company needed a way to drive growth on their newly launched eCommerce platform and to provide their sales team with actionable consumer insights and marketing qualified leads.
Solution
In order to meet their growth objectives online, Electrozad leveraged technology to drive growth and guide their customers through the sales funnel from awareness to advocacy. They began with marketing automation on their campaign efforts, utilizing a lead generation system to qualify unknown website visitors, rank prospects with a scoring methodology and to create opportunities for their sales teams by providing them with comprehensive behavioral data. They measured success and return on investment to continue refining their approach and focus on driving more customers to their eCommerce solution.
In the past year, they dedicated more resources to their digital model, onboarding SAAS tools, partnering with AD eCommerce Solutions for enhanced content and implementing a CRM and marketing automation platform.
To maximize the potential of their digital model, they focus their AD field marketing summits, meetings designed to foster collaboration between sales teams and manufacturers, on integrated sales and marketing campaigns that are developed with vendor partners and support target markets and products that provide mutual growth.
Results
Due to the implementation of Electrozad's innovative digital and omni-channel marketing strategy, along with their ample marketing technology stack, they have seen tremendous growth in website visitors and exceeded expectations in their early eCommerce sales. In early 2021, compared to the same period in 2020, the company saw a 300% increase in website traffic. Their organic search traffic has doubled from 2020 to 2021, with users being able to find them online through a higher number of keywords related to the products and services that they offer. In partnership with AD's eCommerce Solution, Electrozad has implemented over 70,000 enhanced product SKU's, allowing their customers to search products via a higher number of search terms, search engine optimization (SEO), and to access valuable product information. Through segmentation, targeting and the use of testing to improve content, they've seen a measurable increase in their interactions and conversions on social media and email marketing. On an ongoing basis, Electrozad continues to develop and evaluate their digital marketing efforts based on the data that is provided through their digital tools, applying the insight and analytics into their campaigns through their marketing channels.
AD eCommerce Solutions leverages AD's scale and community to enable members to achieve their eCommerce objectives and win in an evolving digital world. To learn more about AD eCommerce Solutions, contact Caroline Ernst at cernst@adhq.com or (610) 977-3162.