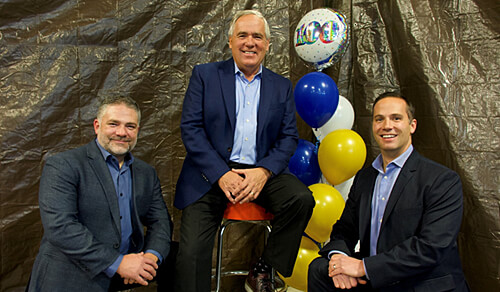 AD Electrical – Canada member Independent Electric Supply commemorates 100 years in business
January 10, 2022
Photo Details: Independent Electric Supply President Bob Branscombe (centre) celebrates the company's the milestone anniversary alongside sons Steve, VP Sales (left) and Dave, VP Purchasing, Marketing & Information Technology (right).
TORONTO – For longtime AD Electrical – Canada member, Independent Electric Supply, 2021 marked a highly significant and impressive milestone: 100 years in business serving the electrical sector.
With a unique origin story as a primary supplier to the hardware community, providing appliances, lighting, and full line electrical supplies, Independent Electric Supply has proven that it stands the test of time, relentlessly experiencing steady growth within the industry it proudly serves. Following a change of hands in 1988 with the arrival of Bob Branscombe as the new president and owner, the company's leadership has managed to maintain a highly hands-on approach throughout the years, as evidenced by the organization's ability to continually offer greater economies of scale to reduce the total transaction cost to its customers and manufacturing partners.
While the business' celebratory gathering was not quite what team members projected due to prevailing physical distancing requirements and limited event space capacities, Branscombe spoke on how the commemorative ceremony rendered a strong personal impact.
"Our celebration was not what we originally envisioned, but it was perfect in every way because it happened," relayed Branscombe. "There were no banquet rooms, no special dinner, and unfortunately no social evening where we could get together and celebrate with our partners—just a tarp in the warehouse, a stool, some balloons, a skid platform, a performance from a kid with a guitar, the gathering of our staff, and a picture of three very grateful individuals who, on behalf of the entire team at Independent Electric Supply, sincerely thank our wonderful partners."
As an additional means of celebration, the company generously showed its support for three deserving charitable organizations on behalf of its supplier partners and customers: Diabetes Canada, Alzheimer's Ontario, and Children's Make-A-Wish Canada—with each cause representing a pillar value of Independent Electric Supply, respectively (vision, memories, and dreams).
With organizational ties dating back to 1993, Independent Electric Supply has been a long-standing member within AD. As Independent Electric Supply continues to represent in excess of 300 manufacturers (and growing), AD is proud to stand behind the organization as a reliable partner in leveraging size, scale, and robust financial systems to invest in resources to aid members like Independent Electric Supply in achieving success today, and every day. Here's to another 100 years of winning together!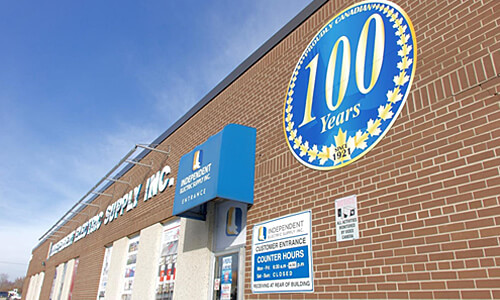 Photo Details: Independent Electric Supply's headquarters in Toronto, ON.
---
AD Électrique — Independent Electric Supply, un membre canadien, célèbre ses 100 ans d'existence.
Description de la photo: Le Président d'Independent Electric Supply, Bob Branscombe (au centre), célèbre l'anniversaire de l'entreprise aux côtés de ses fils Steve, Vice-président des ventes (à gauche) et Dave, Vice-président des achats, du marketing et des technologies de l'information (à droite).
TORONTO - Pour le membre de longue date de la Division Électrique d'AD Canada, Independent Electric Supply, l'année 2021 a marqué un jalon particulièrement important et tout aussi remarquable: ses 100 ans d'activité au service de l'industrie électrique.
Fort de son parcours unique en tant que fournisseur principal pour la communauté des quincailliers, offrant des appareils électroménagers, des luminaires et une gamme complète de produits électriques, Independent Electric Supply a fait ses preuves au fil du temps, avec une croissance sans relâche au sein de l'industrie dans laquelle l'entreprise s'inscrit fièrement. À la suite de l'arrivée de Bob Branscombe en 1988 en tant que nouveau président et propriétaire, la nouvelle équipe dirigeante de l'entreprise a su retenir et conserver l'approche pragmatique qui a toujours été à la base du succès de la compagnie, comme en témoigne le fait que cette dernière ne cesse d'offrir de grandes économies d'échelle à ses clients et partenaires de fabrication, en vue de réduire le coût total des transactions.
Alors que le rassemblement commémoratif organisé par l'entreprise n'était pas tout à fait ce que les membres de l'équipe avaient envisagés en raison des exigences de distanciation physique en vigueur et des capacités limitées de l'espace prévu pour l'événement, M. Branscombe a tant qu'à lui, évoqué l'impact personnel et puissant qu'a produit cette petite cérémonie commémorative.
« Notre célébration n'était pas ce que nous avions prévu à l'origine, mais elle était parfaite à tous égards, du fait même qu'elle a eu lieu » a relayé Branscombe. « Nous n'avions pas prévu de salle de banquet, ni de dîner spécial, et malheureusement pas non plus de soirée sociale où nous aurions pu nous réunir et célébrer ce jalon avec nos partenaires – au final, ce c'était juste une bâche tendue dans notre entrepôt, un tabouret, quelques ballons, une plateforme de débardage, un jeune avec une guitare, un rassemblement de notre personnel proche et une photo avec trois personnes très reconnaissantes qui, au nom de toute l'équipe d'Independent Electric Supply, souhaitent vivement remercier nos merveilleux partenaires. »
Pour célébrer davantage, l'entreprise a généreusement exprimé son soutien envers trois organismes de charité qu'elle digne méritantes, au nom de ses fournisseurs partenaires et de ses clients: Diabète Canada, Alzheimer Ontario et Make-A-Wish Canada pour les enfants — chaque cause reflétant une des trois valeurs fondamentales au cœur d'Independent Electric Supply, respectivement (vision, souvenirs et rêves).
Fort de liens organisationnels qui remontent à 1993, Independent Electric Supply est depuis longtemps un membre fiable d'AD. Alors qu'Independent Electric Supply continue de représenter plus de 300 fabricants (et ce nombre ne cesse de croître), AD est fière de soutenir la société en tant que partenaire fiable, en tirant parti de son envergure, de sa taille et de ses systèmes financiers fiables pour investir dans des ressources destinées à aider d'autres membres comme Independent Electric Supply à réussir, aujourd'hui et jour après jour. À 100 autres années de victoire ensemble!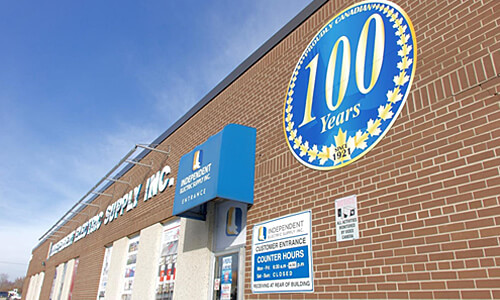 Description de la photo: Le siège social d'Independent Electric Supply à Toronto, en Ontario.