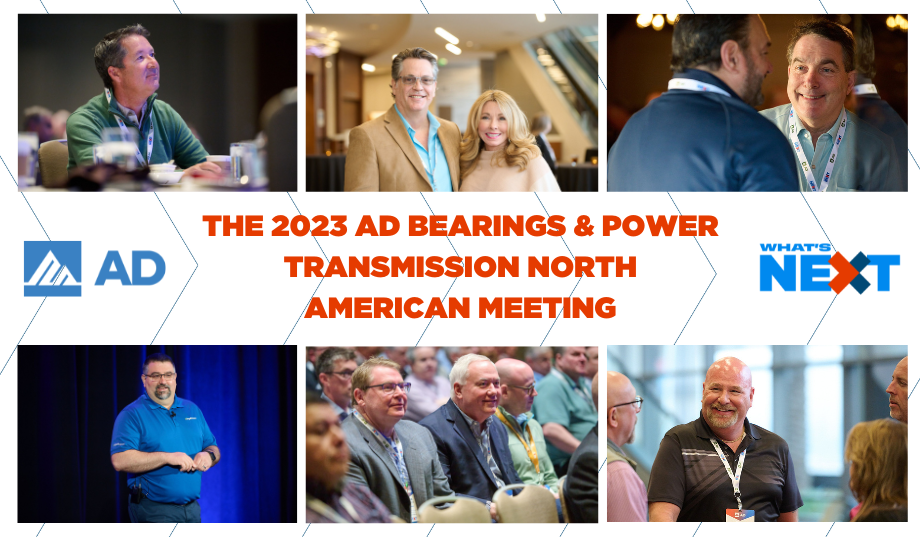 AD Bearings & Power Transmission announces what's new at 2023 North American Meeting
May 2, 2023
San Diego, Ca. – AD Bearings & Power Transmission hosted its 2023 North American Meeting from March 21 to 24 in San Diego, where divisional members and suppliers connected for best practice sharing and meeting sessions dedicated to growing their business.
During the member business meeting, Darin Davenport, Vice President of Bearings & Power Transmission, led discussions about financial success in 2022 and shared key priorities and program updates for members and suppliers in 2023.
"The division and its members have achieved great success together in recent years, and our collaboration and commitment that shine during this meeting are major contributors," said Davenport. "We continue to invest in people and programs that bring increased value to the Bearings & Power Transmission community and lead us to even greater success in the coming years."
New people and programs for 2023
At the North American Meeting, members and suppliers met the division's newest team members. Tony Clark, Director of Supplier Relations, joined the divisional team in late 2022, and Brooks Bentz, Director of Member Engagement, joined in early 2023, showing AD's commitment to support members and suppliers and helping them outpace the competition.
"This week gave our members and suppliers opportunities to connect with Tony and Brooks, who both have done incredible work already to support the division's financial and operational goals," said Davenport. "With new associates joining the AD team, we have enhanced our ability to serve our members while maintaining financial excellence with record success last year."
The AD team shared additional announcements with the Bearings & Power Transmission community, including the launch of the Center for Independent Distributor Leadership and the resumption of in-person AD Education Center courses. Members and suppliers also have access to the new Product Playbook, released late 2022.
Division leaders also shared search functionality enhancements to AD Marketplace, more details about AD's launch of the Center for Independent Distributor Leadership, and AD MAX opportunities for Bearings & Power Transmission members to learn about how to maximize the value from AD's programs.
AD added an open booth hall period for this year's meeting, giving members more time to meet with suppliers outside the formal meeting schedule. This development helps members connect with more partners and provides more time for creating new business relationships.