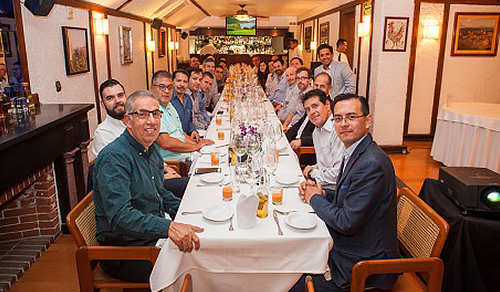 A Focus on Relationships at the AD Mexico Board Meeting
July 7, 2017
Twenty AD Electrical Mexico members and twenty supplier partners met in Guadalajara for the second annual AD Mexico board meeting. Sales performance, rebates, and the recruitment of new members and supplier partners were highlighted topics on the agenda.
Juan Carlos Zacarías, AD's Director of Business Development—Mexico said, "Without any doubt, this is truly a business forum where we all have the same vision…it is confirmed that together we are stronger, together we are bigger, together we are better…Together we, win."
After the board meeting, members had the opportunity to participate in a golf tournament with the board and tournament sponsor, AD supplier partner, General Cable.
Following the tournament, members enjoyed a nice dinner at the Riscal Restaurant sponsored by AD's supplier partner, Estevez. Here, members got to catch up and learn more about the Estevez product portfolio and their year over year growth of 37% achieved with AD. Additional event sponsors, Beghelli and Norlek, presented their companies, products, and expectative of the electrical market for the coming years to AD Mexico Members.
New relationships were forged, new business opportunities identified and the AD Mexico community walked away from the event with a strong optimism for the future.