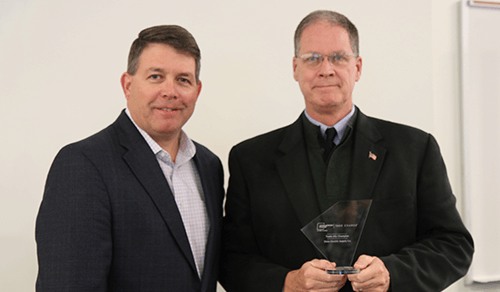 State Electric Awarded for Performance in Energy Saving Solutions in West Virginia
December 7, 2018
AD Electrical Member State Electric Supply Co. was named Trade Ally Champion of West Virginia at the 2018 West Virginia Commercial and Industrial Program Seminar and Awards Luncheon on November 7 hosted by American Electric Power.
This award was given for State Electric's participation in the Appalachian Power Take Charge West Virginia Program, which offers resources and rebates for energy-saving improvements in West Virginia businesses. State Electric had a top performance in Energy Rebates, landing them the title of Trade Ally Champion.
A trade ally is the network of contractors, suppliers, and engineering and design professionals who are growing their businesses by leveraging Appalachian Power and AEP's Commercial and Industrial Program rebates for energy-efficiency projects. State Electric is proud of its commitment to energy saving solutions and grateful for AEP for championing those efforts.
About State Electric: State Electric Supply Co. is an experienced full-line electrical, data comm, utility, and power transmission distributor. From a humble start in 1952, State Electric Supply Co. has grown into one of the nation's highest ranked distributors. Through quality products, dedicated employees, extensive experience, and commitment to service, State Electric Supply Co. provides the best value to our customers. Find more information at stateelectric.com.