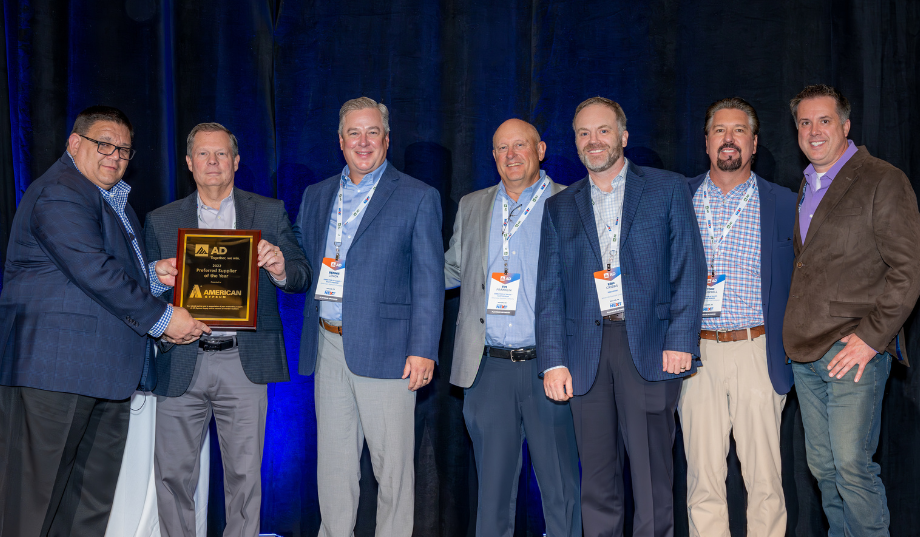 AD Gypsum Supply members and suppliers earn awards, celebrate exceptional year at Spring Meeting
May 18, 2023
San Antonio, Tx. – During the division's Annual Spring Meeting, AD Gypsum Supply celebrated its exceptional members and suppliers for participation, collaboration with their fellow members and suppliers, and close partnership with AD.
"The Spring Meeting gives us the opportunity to honor our devoted members and suppliers that accomplished great things in the past year," said Dan Maroni, President, Building Materials Business Unit. "Our community collaborates and partners with AD to grow their businesses and succeed – and we think that deserves to be celebrated.
"AD celebrated Gypsum Supply members who opened 15 new locations in 2022, as well as the following four new members that joined the division in 2022:
Park Avenue Building & Roofing Supplies, LLC
Each year, AD Gypsum Supply recognizes a member that purchases from the highest percentage of suppliers, and a supplier that supports and goes the extra mile for members. The following companies won participation awards:
2022 Member Participation Award – Lynwood Building Materials, Inc.
2022 Supplier Participation Award – Crane Composites, Inc.
AD also honors the Gypsum Supply member and supplier that achieved the highest percentage of growth in the previous year. Two companies won growth awards at the Spring Meeting:
2022 Member Growth Award – Shore Supply, Inc.
2022 Supplier Growth Award – Owens Corning Corporation
The Member of the Year Award is presented to the Gypsum Supply member that demonstrates the greatest support for AD in terms of supplier participation, communication, growth, and support to grow their business and the Gypsum Supply division. The 2022 Member of the Year Award was earned by L.K.L. Associates, Inc.
The Supplier of the Year Award goes to the Gypsum Supply supplier partner that exemplifies strong support, leadership, and reliability for AD and its membership. They are a strong supporter of AD meetings, growth, and innovation. The 2022 Supplier of the Year Award was earned by American Gypsum Company.