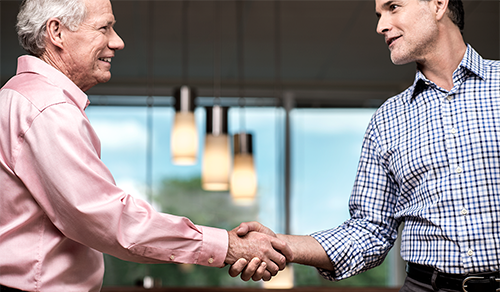 Know Your Strengths: Strategies to Curate Your Leadership Team
June 19, 2018
"It's not about who has the loudest voice in the room or who's the smartest, but rather who can help the team work well together and push the company to the next level of performance" – John Salvadore, Managing Partner of AD HR Service Provider GRN Coastal. 
As successful business leaders know, hiring decisions can be some of the most important ones made and can make -- or break -- a company. Below, AD members and supplier partners share insights on the qualities they look for when filling leadership roles, how they qualify candidates, and the one key piece of advice they'd offer someone who's working to build a strong leadership team. 
Lessons in Leadership
"The foundation to hiring and developing great leaders is to first establish the 6-8 key foundational leadership competencies which enable a leader to be successful at their company," shares Neil Cohen, AD's Senior Vice President of Human Resources. "Once selected, those competencies should be woven in to the way the company hires, evaluates performance, trains/develops, conducts talent reviews, and plans for management succession."
Achieving this, however, isn't always a walk in the park. "Filling leadership positions isn't easy," confirmed Joe Milot, President of Protective Industrial Products (PIP) Inc.. "At our size, we need 'hands-on' leaders who don't just set objectives and watch dashboards, but who pull up their sleeves to get the job done. Good leaders build dynamic teams by inspiring and leading by example."
Alan Karen, Senior Vice President of Global Sales for SATCO Products, Inc., said "I look for an individual who can be very diversified and get to the destination -- if one path doesn't work, they'll go down another path. I'm not looking for a sponge. I'm looking for leaders who can teach me things." 
Tools of the Trade
Jack Templin, President of AD Industrial and Chief Programs Officer, has been exposed to a number of different tests and assessment tools over the years with mixed results, but is a convert to the 'Predictive Index' (PI) tool from AD Service Provider PI Midlantic. "PI has helped me identify people's strengths and leverage them to create an environment for success," he said.  "I'm especially fond of the Interview Guide, which compares a candidate's PI results and a Job Pattern for a specific position. This tool has proven invaluable in narrowing the field of candidates and improving AD's hiring accuracy."
Jim Schaedler, CEO of Schaedler Yesco Distribution, Inc., said that Schaedler Yesco currently uses a behavioral assessment for each new employee and the results are given to their manager as well as the employee after they're hired. "Generally, we have better results through personal interviews, though," he conceded. "Numerous managers within the company will talk to the person and get their opinion of that person's capabilities and qualities. When all agree that we have the best candidate, we hire that person." 
At Action Gypsum Supply, LP, Managing Partner Lenin Juarez said that "we haven't utilized any formal tools in the recruitment of our leaders and have relied on our past experience in selecting our management team based on the job description. As we move from the level of being a 'mom and pop' business to a mid-size enterprise, though, we're becoming aware of the need to be more reliant on tools rather than on our intuitive abilities and experiences," adding that the company often reaches out to AD for HR-related support.  
Words to the Wise
"My advice would be to build a strong set of core values or principles and make sure that your leadership team is 'all in'," shares David Rosentein, President of ConneXion. "Strategy and tactics change, but strong organizations with strong cultures can have a good shot at long-term success."
"At Action Gypsum Supply, we value our customers and strive to provide them with optimum service," Juarez explained. "However, as important as our customers are, our employees are the most important part of our company. We work hard to let our 'work partners' know that they're the engine that drives the bus. Without our employees, we have nothing!"
Based on her experience as President of Arbill, Robyn Zlotkin's advice for building a strong leadership team comes down to one word – collaboration. "When we have a problem, we often say 'let's get some smart people in a room and together we'll solve it.' We recognize that by working as a team, collectively, we'll accomplish much more than any individual team members working independently."
If you are seeking advice on building your leadership team, or would like to be put in touch with any of the AD HR Service Providers, reach out to Neil Cohen, AD's SVP of Human Resources at ncohen@adhq.com. 
This article has been modified from its original version, which appeared in the 2017 edition of AD Today Magazine. To read the full article, you can view the digital edition of AD Today here.