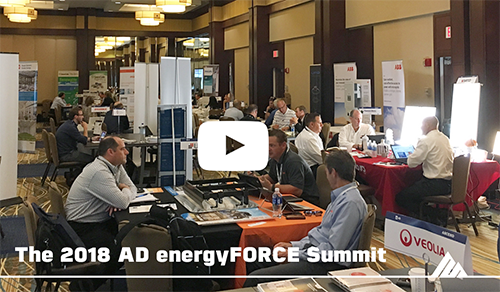 Join Us at the Upcoming 2018 AD energyFORCE Summit
May 16, 2018
Taking place on June 5th and 6th 2018, the AD energyFORCE Summit promises to be one of the best events of the year for your Sales Teams working to attract energy projects to your businesses. The Summit will be hosted at the Downtown Marriott Magnificent Mile in Chicago.
AD's Senior Vice President of Marketing, Ted Simpson, shares why you should attend the AD energyFORCE Summit:
Unique Features of the energyFORCE Summit
Well-known Sales Trainer, Bill Attardi, will kick off the Summit with an Interactive Group Workshop on the sales skills necessary to recognize and solve for obstacles to close sales in today's competitive environment. Members will get the opportunity to participate in small group discussions covering the topics of: Disruptive Change, Demand Selling® and Strategic Selling, specifically focused on lighting.
In addition to the Group Workshop, attendees will meet in non-competing Individual Network Sessions to share best practices and challenges with peers. The Summit also features one-on-one booth sessions where sales teams will learn about the latest innovations straight from the product experts.
The Summit attracts over 40 Suppliers from lighting, wiring devices, distribution equipment, wire and cable, and solar who are looking forward to discussing strategies to build sales.
If you'd like to learn more about the energyFORCE Summit or if you would like to register, please visit AD's Private Website.