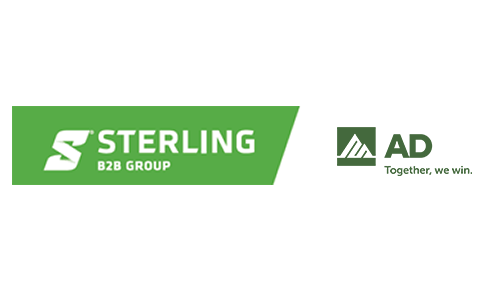 Introducing New AD Service Provider: Sterling Payment Technologies
January 31, 2018
We are excited to announce that Sterling Payment Technologies is AD's new Credit Card Processing Service Provider. I am confident that Sterling will provide AD members in US, Canada and Mexico with innovative payment technologies, authentic transparency, and world-class service. They are able to automate cost reduction and increase cash flow with payment processes and their proprietary technology to assume the lowest cost on every transaction.
In our initial pilot program, which included 4 AD members, rates for the test group were reduced by 14%-28%. Sterling Payment Technologies saved AD members an average of $54,000 a year.
James McKinnon, CFO at AD Member, Lowe Electric Supply Co. shared his experience with Sterling. "The setup and migration went really well. The transition was seamless between credit card processors." McKinnon also noted that Sterling B2B "has done a great job so far," and "would definitely recommend this to anyone looking to lower their rates."
Dan Bemis, CFO at AD Member, Caniff Electric agreed. "The process of switching could not have been easier. They set up training over the phone for their website portal which went very smoothly," he explained. "After one month, they set up a call to discuss our rates and answer any questions I had. We are saving money, with nothing negative to report." Bemis would also recommend Sterling B2B Group as a service provider for all AD members.
I had the chance to sit down with Bridgette Kime, Partner Relationship Manager at Sterling Payment Technologies to talk with her about what she wanted our Members know.
"Sterling B2B Group stands apart from all competition through our technology, our transparency, our service and our approach to a whole business solution for every member," Kime explained. "Our transparency gives every member full access to their account 24/7 and customizable reporting."
With their consultative approach, Sterling B2B Group provides a thorough analysis of your company's current payment process and assures that you both have a mutually beneficial relationship.
Kime continued, "We approach each member from the perspective of helping them solve any challenge in their payment process to increase cash flow." Kime would advise AD members who are not accepting credit card to start doing so as it is the least expensive form of payment acceptance, other than cash. "If you are already accepting cards, allow us to review your current process and help you minimize costs and optimize your business processes," she said.
To get in touch with Sterling Payment Technologies, call (888)-564-9564 Ext. 3025 or email b2binfo@sterlingpayment.com.