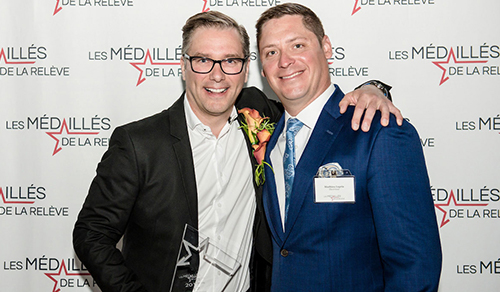 Electrimat Wins a 2017 Award at the 11th Edition of the Business Transfer Awards
June 8, 2017
Montreal, June 1st, 2017 – On May 29, Electrimat—regional leader in the sale of electricity, heating and lighting materials—received a prestigious award in the entrepreneurial category at the 11th edition of the Business Transfer Awards, which took place at the Caisse de dépôt et placement du Québec.
This event is organized every year by PwC—proud establisher of the event. The contest aims to celebrate and showcase the success of Quebec companies who have successfully transferred their business, ensuring the company's sustainability and growth.
Seven years ago, two business professionals saw the enormous potential of Electrimat, a company that had a storefront in Brossard and had been in business for over 37 years. With little experience in the field, the two visionaries faced a challenge when they took the reins at Electrimat. "We knew that we had to create a new corporate culture that employees, manufacturers and clients needed to buy into. That's why the success of the business transfer rested on a mutual feeling of confidence," says Christian Grenier, president.
The two owners took a collaborative, innovative approach in order to create strong relationships with their employees, manufacturers and clients. "Among other things, we were honoured to partner with specialists in the electricity industry that we worked with on a regular basis," says the president. "We work hard to set ourselves apart by our personalized service—an added value throughout each business process that allows our clients to present superior-quality projects to their own clients. We have what they're looking for: flexibility and considerable leeway, respecting timelines and deliverables, as well as a careful follow-up of billing and after-sales service. And, of course, we do everything we can to offer it all at excellent prices."
This approach has proved fruitful over the last few years. "Ever since the transfer, Electrimat has seen remarkable growth with revenues that have almost tripled," says vice-president Mathieu Legris. "Our strength resides in the fact that we offer the flexibility that master electricians are looking for while giving them access to the largest buying group in North America."
Electrimat is known as a flagship company in the Quebec electricity and lighting market, and they can boast about their competitive prices compared to the competition—whether it's for residential or commercial/industrial markets. Mr. Legris says they are proud to be seen as a young David up against the Goliaths of the world. As well, the company has remained 100% Quebecois. In their case, being a local independent company has been their biggest advantage: it means they remain close to their clients and suppliers.
It is with much pride that the two entrepreneurs won 2nd place out of 60 companies entered in the 2017 Business Transfer Awards. They accepted their award in front of 250 guests during the event. "Being awarded this prize just confirms that we did what we had to do to ensure a successful future for our company. We are grateful to all the people who put their trust in us."
Energised by their success, Mathieu and Christian have no plans to sit on their laurels, and instead want to explore new markets by studying different growth avenues. "Our three stores in Brossard, Saint-Hyacinthe and Montreal are working to full capacity," say the owners. "We realize the point to which our way of working is a source of satisfaction. Clients and manufacturers alike tell us that they see a real advantage to working with us as opposed to large national players."
About Electrimat
Electrimat is separated into two segments, offering a sales service of electricity material to residential, commercial and industrial sectors across its three stores. The company also sells to the general public with a newly renovated, 9,000 sq.ft. lighting showroom in Brossard.
For more information: Lucie Côté, Service-conseil – 514-717-1882 - lcote@lcserviceconseil.com