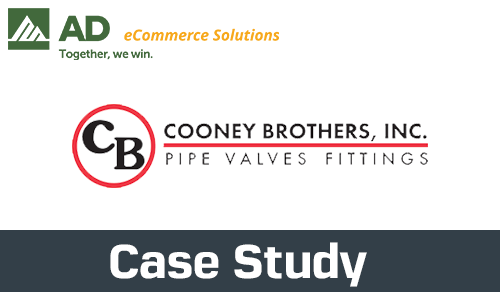 Cooney Brothers, Inc. Leverages AD eCommerce Solutions & Trusted Partners to Launch Digital Branch, Attracting Numerous New Customers in First Year
January 4, 2019
"Utilizing AD's eCommerce Solutions, we were able to develop a digital strategy, unique to our business, and then design and implement a platform consistent with that strategy. The site continues to gain traction, both in traffic and in self-service, as we continue to blend our digital capabilities with our traditional ones" - Jake Fegely, COO of Cooney Brothers.
Company Background
Plymouth Meeting, PA-based Cooney Brothers, Inc. is a third-generation, family-owned distributor for the Plumbing and PVF industries. Operating since 1937, Cooney Brothers, Inc. has over 80 years of industrial piping and plumbing experience and expertise and they continue to grow and serve customers in the local mid-Atlantic community and across the United States. Cooney Brothers is an AD Member in the Plumbing and PVF divisions.
The Challenge
As with many Independent Distributors, Cooney Brothers, Inc. was challenged with the need to compete against large national chains and in 2012 discovered a shift in the way their customers were searching for information and making product purchases. As Cooney Brothers realized that the new generation was increasingly buying online, in 2013 they started searching for eCommerce solutions that would meet both their needs and the needs of their customers.
By 2016, results from customer surveys indicated that 80% of their customer-base was buying online. To Gerald Cooney, President, Jake Fegely, COO, and the Cooney Brothers IT Team, it was clear that they would need to act quickly and build their own Digital Branch that would keep them competitive in the marketplace and would incorporate all the features their customer-base would expect.
The Solution
Along with their team that would focus on ways to integrate their Digital Branch into the company, Cooney Brothers enlisted the help of three partners to assist with their Digital Branch:
1. B2X Partners to create a strategic plan
2. Unilog for web development
3. AD eCommerce Solutions for consultative services on strategy and implementation as well as AD enhanced content SKUs.
As a first step, B2X Partners helped Cooney Brothers from the ground up to provide them with a strategic plan that they could use to successfully implement their eCommerce site. They began by providing Cooney Brothers with an analysis on:
Current customers
Competitors in the industry
Interviews with executives and key stakeholders
Financial models
Using that information, they worked together to create a digital roadmap, determine key functionalities that Cooney Brothers' customer-base would expect, and define the overall look and feel of the site.
With this groundwork established, Cooney Brothers and Unilog worked to develop the Digital Branch on Unilog's CIMM2 Platform and AD eCommerce Solutions helped Cooney Brothers populate their site with AD enhanced product SKUs.
Additionally, the AD eCommerce Solutions team frequently consulted with the Cooney Brothers eCommerce team to ensure full implementation of the design and functionalities determined in their strategic plan. As they worked together, they identified the opportunity for the Digital Branch to become a self-service portal for their customers. Beyond providing an easy-to-use checkout system, their Digital Branch would be a place where customers could engage with tons of content from training documents, to video tutorials, to an event calendar, and more.
By partnering with AD eCommerce Solutions and their trusted partners, Cooney Brothers was able to focus on building their eCommerce Team and achieving internal buy-in for their Digital Branch. Cooney Brothers realized they lacked the marketing expertise required to successfully promote customer adoption of the Digital Branch. They hired an eCommerce Marketing Manager to drive customer adoption of the Digital Branch. The Marketing Manager implemented a strategic email marketing campaign that would tease the launch of the Digital Branch and drive excitement.
"By using AD's product content, I have more time to focus on other aspects of marketing: from developing creative content to promoting our website, we can better meet our customer needs while standing out in the PVF market." - Natalie Beers, Marketing Manager at Cooney Brothers.
Prior to the public launch, Cooney Brothers introduced the Digital Branch to their internal sales teams, who received comprehensive training and provided feedback on the Digital Branch. This process revealed that the self-service features of their Digital Branch would ultimately maximize efficiencies for their internal sales and customer service teams by giving them access to information quickly when answering customer questions.
One year after partnering with AD eCommerce Solutions, Cooney Brothers launched their Digital Branch in September 2017 with the following features:
11,000 AD enhanced product SKUs
Comprehensive training materials including manufacturer product training
Thorough product dimensions and measurement conversions
Training videos on how to maximize use of the website
Calendar of upcoming events
Account Login to facilitate easy re-ordering
Results
Since their launch, Cooney Brothers has successfully attracted numerous new customers and they continue to attract new customers through their Digital Branch. Their Digital Branch traffic is currently receiving over 4 times the number of visitors from when they initially launched, and they expect to see increased growth in their traffic as they continue to promote their Digital Branch to their existing and prospective customers.
AD eCommerce Solutions leverages AD's scale and community to enable Members to achieve their eCommerce objectives and win in an evolving digital world. To learn more about AD eCommerce Solutions, contact Caroline Ernst at cernst@adhq.com or (610) 977-3162.