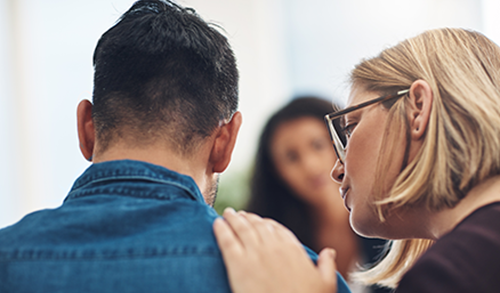 Combating the Loneliness Epidemic
August 22, 2018
Despite the "connected" age we live in, many people are becoming more and more isolated. In a world of hundreds of communication platforms, there is less relationship connection than ever before. Videos provide one-way communication. Apps, infomercials, how-to videos, or WebMD all lack the human component of empathetic listening and compassion. Social media platforms cannot solve isolation and loneliness. In fact, they ultimately create more isolation. 
Having a close confidante is becoming a rarity. Our great-grandparents lived in "community" with lifelong friends and relatives accessible just down the street or on the front porch next door or in the local church. What do we do when life's difficulties or issues emerge, and we suddenly realize we have no one to turn to for advice or help?
According to Harvard Business Review's article "Work and the Loneliness Epidemic," loneliness is a growing health epidemic with over 40% of adults in America feeling lonely. Even CEOs report feeling lonely in their roles. Not only is loneliness a psychological, emotional issue but is "associated with a reduction in lifespan similar to that caused by smoking 15 cigarettes a day and even greater than that associated with obesity . . ." 
"Loneliness is also associated with a greater risk of cardiovascular disease, dementia, depression, and anxiety. At work, loneliness reduces task performance, limits creativity, and impairs other aspects of executive function such as reasoning and decision making. For our health and our work, it is imperative that we address the loneliness epidemic quickly." 
This is where Marketplace Chaplains can have a significant impact in the workplace. Chaplain Care Teams proactively interact regularly with employees building comfortable, confidential relationships. Many companies have an Employee Assistance Program, however, statistics show that their usage is often less than 5%. The relational element of Chaplains provides employees with a safe, known person with whom they can share their struggles, issues and problems.  Marketplace Chaplains is in its 35th year of providing employee care through Chaplain Care Teams.  
The HR Director of an AD independent distributor recently shared: "A year or so before we started with Marketplace Chaplains, we had an associate commit suicide. We were all caught off guard by it and were completely devastated. We couldn't help but wish that this person would have reached out to us and let us help in some way. It broke our hearts that they felt they had no one to talk to. When we learned about Marketplace Chaplains, we knew it was something we wanted to put in place and are hopeful that others will find peace in having someone to talk to about life, someone that doesn't judge them."
Other AD member testimonials include: 
"I was a single mom when my father passed. I had no one and felt alone. From my father's hospital room, to the funeral home, to the cemetery, my chaplains were with me the whole time!"
"Having Marketplace Chaplains visit our locations is dear to our hearts. Having someone come out and visit with our associates every week means they have someone to talk to and show them genuine care. It goes beyond what we as employers can provide. It gives them someone to reach out to, to lean on and someone they can trust. A lot of our associates do not have a solid support system outside of work, so our hope is that as we continue with this service, those relationships will continue to be built."
---
AD HR Service Provider Marketplace Chaplains is a personalized employee care service that provides emotional support to your employees and their families on issues including, but not limited to, marriage, divorce, serious illness, death and grief recovery, parenting, care of aging parents, and any other personal issues. To learn more about how a Chaplain Care Team might benefit your employees, please visit www.mchapusa.com or reach out to Tony Guagliardo at tonyguagliardo@mchapusa.com.