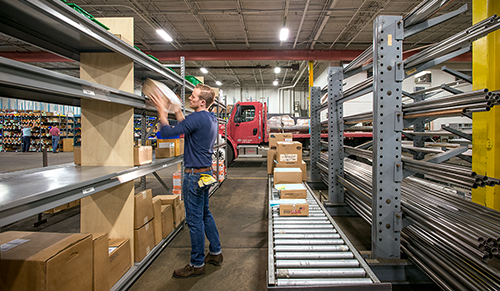 8 Ways The Packaging Wholesalers can Help Reduce Packaging Costs
August 7, 2018
"Just in Time"

supply strategies can quickly increase return on investment and profits, contributing directly to the bottom line. We inventory over 1,400 different sizes of corrugated stock boxes and mailers, along with many other core packaging items so you don't have to.  

The Packaging Wholesalers immediately helps reduce wasteful spending by eliminating the need to meet high run minimums set by corrugated manufacturers, thus allowing you to profit on smaller opportunities.
Not only can purchasing through The Packaging Wholesalers help streamline your operation by improving efficiencies, these same supply strategies will also help free up additional warehouse space and more working capital.
We save you money through our nationally recognized, patent pending Delivered Pricing Program by passing along our freight discounts on pre-paid orders that qualify. Additionally, we pro-rate our freight rates on all other orders which dismisses any freight penalties when placing smaller orders.
We offer even deeper discounts when purchasing corrugated stock boxes if ordered in bale quantities which earn our customers an additional 4% discount.
The Packaging Wholesalers will blind ship any order in your name directly to your customer. This serves our distributor partners with shorter lead times and reduced handling costs when utilizing this shipping option.
We believe in "ease of doing business" and allow our customers the option to use their own carrier if they have more competitive freight rates than our negotiated discounts.
Now shipping out of 4 locations in Elgin, IL * Dallas, TX * Hazelton, PA * Atlanta, GA * and offering our market partners who ship nationwide more regional and local shipping alternatives. This is a distinct cost-saving advantage that separates The Packaging Wholesalers from other wholesale packaging competitors.
The Packaging Wholesalers is an AD Procurement Service Provider that helps AD Independent Distributors save money on boxes & other shipping products. AD members could save up to 40% on purchases compared to U-Line. To learn more about The Packaging Wholesalers, please visit their website or contact Brenda Marasa at brenda.marasa@packagingwholesalers.com / (630) 635-3648